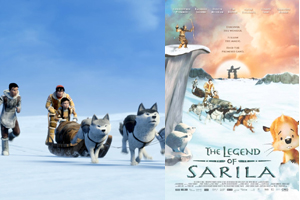 Freeze Frame is pleased to announce that there will be a special FREE screening of a family-friendly feature for Louis Riel Day thanks to funding from the Province of Manitoba's Safe at Home initiative. Canada's first 3-D animated feature film, The Legend of Sarila tells the story of three young Inuit, who set out for the legendary land of Sarila in search of food for their clan. The film is set in northern Canada and draws heavily on Inuit culture and tradition.
All Manitobans will have access to The Legend of Sarila in either French or English for the duration of the day on February 15, 2021 through Freeze Frame's online platform. This screening comes as a precursor to the Freeze Frame International Film Festival for Kids of All Ages, which will run online from March 7-14 and feature award-winning movies from around the globe.
To access the FREE screening of The Legend of Sarila, visit freezeframeonline.org/journeelouisrielday.