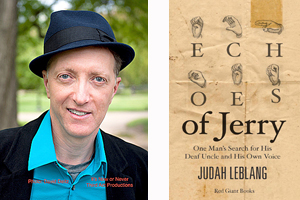 Ed. note: I first met Judah Leblang when he appeared at the Winnipeg Fringe Festival in 2018. As it was my custom over the years to preview any show that had a Jewish performer or Jewish connection, I first previewed Judah's show, then attended in person. At the time Judah told me that he was a sometime writer. Recently he sent me an email to say that he had written a book about his relationship with an uncle. I asked Judah whether there was a review somewhere I could post to this website. What follows is that review (reprinted with the author's permission):
By AMOS LASSEN
I met Judah Leblang through his writing some 12 years ago and I was very impressed. When he told me a couple of weeks ago that he had a new book out and asked me to review it, I jumped at the chance. He did not disappoint. I remembered thinking that reading his words was like talking to an old friend and even though years have passed, I got the same feeling with "Echoes of Jerry".
Leblang grew up in suburban Cleveland where he felt a deep connection with his Uncle Jerry. Jerry was "an orally-educated deaf man who lived an isolated life between the deaf and hearing worlds." Succinctly put, he was different. Like his uncle Leblang also felt different. He was beginning to sense that his sexuality made him feel different and placed him in the category of "the other" and those of us who have been there (at a very different time in our history, have also dealt with these same feelings of otherness. LeBlang came out in the mid-1980s. Time passed quickly and after working in the Deaf Community and then later losing much of his own hearing, he decides to undertake a journey to understand his late uncle and to give him a voice. Because Jerry's existence was a world of no sound, he was a mystery. He died young at age 44 after having a heart attack.
So you might ask why you would want to read a book like this. We forget later what we went through while dealing with our gayness after we feel comfortable enough in it. Of course, these are different times where in many places being gay is no big deal. Yet there was a time when we felt different from the rest of society and that is reflected by Jerry's inability to hear and LeBlang dealing with his own hearing loss. This is a book for whoever has ever felt being an outsider because of difference.
Leblang shares his growing up feeling isolated in Cleveland of the 1970s. What is fascinating here is that he finds parallels with his Uncle Jerry's experiences of growing up deaf twenty years earlier. He brings his and Jerry's life stories together as both men search for ways to belong. There were moments when my eyes filled with tears when I read about the strength of family and Jerry's death.
The feelings we get at feeling different for whatever reason are the same. We all want acceptance and hunger for community. For those who do feel this otherness, their lives are relatively much easier but there are just few numbers of those who just automatically fit. LeBlang beautifully uses his own life and his uncle's as jumping off points to ask universal questions about how one deals with the desire to belong to a community. This is a quick read that has a lot to say.
"Echoes of Jerry" is  available on Amazon.com. Find out more at judahleblang.com