3 lines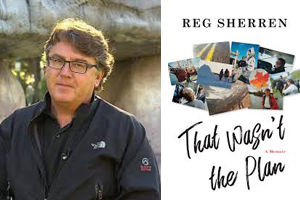 By MARTIN ZEILIG
For "a freckle-faced, red-headed kid growing up in small-town Western Labrador," who sort of stumbled into his profession, former CBC reporter Reg Sherren sure made a name for himself.
He ended up travelling the world and telling stores for CBC's flagship news program, The National, as well as hosting the popular TV program, Country Canada.
"That plan certainly wasn't part of any plan I was aware of," he writes in this entertaining, insightful—in a number of ways – and anecdote laden memoir: "That Wasn't the Plan: A memoir by Reg Sherren"
But, then life so often turns out that way. Physicists might even say it is due to the randomness of existence. Others would call it fate.
Reg Sherren is a popular commentator, writer and freelance producer. A two-time Gemini and Canadian Screen Award nominee, Sherren has also been the recipient of numerous journalism awards from the New York and Columbus international film and video festivals, as well as the Radio-Television Directors' Association, says his brief bio. He lives in Winnipeg.
Sherren got his first job at age 15 as an announcer on a radio station in his home town, where his father was one of the iron-ore mine managers. It was the same station that, as he writes, "offered the ability to escape," because radio stations from "faraway places would find their way skipping across the Labrador sky: CFGO Ottawa, WOR New York or WBZ Boston."
He had absolutely zero training for the job.
"For my first show I was given some very brief instruction by the fellow on the air before me, a guy who called himself Buffalo Bill Cody," the author writes. "He looked the part like Wild Bill Hickok with his long hair, moustache, cowboy hat and fringe jacket."
Being on the air was only one of the teenager's duties. He also had to make sure all the garbage cans were clean for Monday morning, and change the paper on the teletype machine.
It was a good training ground, or at least an introduction, for the future broadcast journalist.
After graduating from high school, Sherren studied journalism at Canadore College in North Bay.
"It was a fabulous place to learn," the author says.
Sherren started out his professional career as the main television news anchor at CKPR-TV in Thunder Bay, Ontario.
"Four years flew by as I honed my craft, even eventually making a little more money, and I landed my first byline—my name on a network radio report on forest fires in Northwestern Ontario, pounding out on teletypes across the system," he writes.
Thunder Bay was also the place where he met "my beautiful future wife, Pamela Tennant" – the weekend anchor at CKPR and a daily reporter.
"She left before me, taking a reporting gig with CTV Edmonton," Sherren says. "Not long afterwards, I chased her west, landing a job at CBC Calgary."
Over the years, Sherren would cover stories that "crisscrossed" Canada. He also did everything from guest hosting network radio shows like Cross Country Checkup to reporting from war zones.
He found so much history, so many characters and so many stories to tell throughout his varied career with CBC.
Among the many vivid "behind-the scenes" stories Sherren shares are about riding on the back of a humpback whale; a journey down "the world's longest ice road" in a solar-powered car, visiting Nagaski, Japan with a former Canadian solider, John Ford, who was a Japanese prisoner of war during the Second World War and who had lived through the second atomic bomb ever dropped in wartime—in Nagasaki; doing an item for a Remembrance Day (November 11) special on The National on Nichola Goddard, a Captain in the Canadian Armed Forces, who was the first Canadian women to be killed in combat (during a tour of duty in Afghanistan); researching a story about First World War hero Francis Pegahmagabow, the most highly decorated Aboriginal soldier in Canadian history; interviewing Roberta Bondar, the first Canadian woman in space; and much more.
Sherren writes that he had a "long-standing commitment to chronicling our country's military service."
He also praises many of his colleagues and other fellow workers at the CBC, such as local television producer Cecil Rosner, for their support and creative initiatives over the years.
His modus operandi never wavered: "When approaching people to do interviews, to let you in, you must be 1) professional, 2) truthful and, above all, 3) respectful. I never lie or try to fudge what the call is about."
Sherren left the CBC, after some four decades as one of their top journalists, at the end of December 2017.
He writes that he misses the idea of the CBC, "but then, I had been missing that for some time before I left. What leaving has empowered me to do is share a few observations about the state of public broadcasting in this country."
Sherren maintains that CBC stories are more urban based, and the country isn't being reflected like it used to be on the TV, the internet or even the radio.
"People pay their taxes," he writes. "Their taxes pay for the CBC."
He recommends, among other things, that CBC.ca should decommercialize. He suggest that instead of selling advertising, set up a news wire service like Reuters or CP to help the privates survive, or at least transition.
Sherren also calls on the CBC "to be the champion of maintaining diversity of voices in all broadcasting/media communities, not playing a role in their demise. And it should seriously think about ending relationships with entities like Facebook.
"Take chances. Don't be afraid of failure. Give the future a chance. Develop shows from the inside. Be the CBC."
Some of his suggestions, especially maintaining diversity, seem to be happening now in the CBC.
"The CBC helped me grow as a journalist and as a human being," Sherren says. "It gave me and my family a wonderful life and allowed me to travel the world to bring you stories. Together we explored everything from the best to the worst that Canadians, as a group of people on this planet, have to offer. For that I will be eternally grateful."
That's a pretty good journey for a wide-eyed, ambitious and talented fellow from Wabush.
That Wasn't the Plan: A memoir by Reg Sherren
Published by Douglas & McIntyre
350 pg.