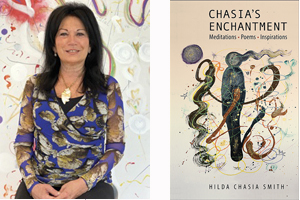 By BERNIE BELLAN
When I was contacted recently by Hilda Smith (née Szternfeld), who told me that she had recently published a book of meditations and "inspirations" titled "Chasia's Enchantment – Meditations • Poems • Inspirations" (Chasia being her Hebrew name – the Ch is pronounced as in Chanukah), I thought to myself: "Now Hilda, I know that you're a very spiritual person – with quite a reputation for bringing enlightenment to others, but I'm a hard ass who is on the opposite end of the scale."
Frankly, I'm the odd one out in my family. My son is also a very spiritual person. In fact, he changed his name from Jordan Bellan to "Jitendradas Love-life". Now, if that isn't an example of someone who has found enlightenment, I don't know what could be more convincing.
Then there's my wife, Meachelle, who spends a part of every day meditating. We even have one room in our house set aside for meditation. (Our dog also meditates with her. Well, she does lie down beside Meachelle and seems to be lost deep in thought – but who am I to judge?)
So, when Hilda asked me if I would write something about her book, I said "sure". After all, in our last issue I wrote about Dr. Tamar Rubin's book of poetry. Maybe it's about time I exposed myself more to my feminine side – as Hilda says we all have in her book.
Now, lest you think that the rest of this article is going to be written in a similarly irreverent manner – you're wrong. I took my task seriously. I actually scanned all of Hilda's meditations; I even listened to the ones that anyone who buys the book can hear simply by scanning a QR code that is printed beside each meditation.
Do I understand what Hilda is talking about in her book? Not totally. But I can see that she has a profound understanding of a great many traditions, especially Judaism and yoga (also Indigenous traditions to a certain extent).
Her poetry is quite accessible – and can be read at many levels. Listening to Hilda actually reading her meditations and her poems, which is possible – again, by scanning the QR codes at the tops of certain pages, adds an entirely different component to the written words.
Hilda is really a lovely person, as anyone who's ever met her can readily attest. Some of her poetry has actually been featured on the pages of this paper, as she notes in her afterword.
Here is some other information about Hilda Smith, taken from "Chasia's Enchantment": "Hilda Szternfeld Smith was born in Winnipeg to survivors of the Holocaust. Her middle name Chasia was given in remembrance of her aunt, Chasia Goszer, who died in the Holocaust. Chasia was a self-realized child, filled with wonder and curiosity, which led her to express a true love of the arts, music and education.
"She has taught Hebrew, Yiddish, French and English languages, charm school, music, art, meditation and yoga. She holds degrees from the University of Manitoba, the University of Calgary, Chopra Center University, California, and Pranayama Centers International, founded by Swami Vignananada.
"She was part of the Women's Writing Project at the University of Calgary…and her poetry has been published in the Winnipeg Jewish Post and the Calgary Jewish Star and her paintings have been represented by galleries in Calgary and Winnipeg."
Quite the resumé, eh? As if that weren't enough, here's what Rabbi Alan Green has to say about Hilda in the foreword to "Chasia's Enchantment": "Hilda Chasia Smith exemplifies all the spiritual qualities of a limitless soul – great intelligence, love, and compassion in all of her words and actions. The atmosphere Hilda generates is like heaven on Earth, as if a goddess from Above chose to walk and teach among us. One would do very well to learn meditation and spirituality from Hilda Chasia Smith."
So, with all that in mind, what could I possibly write that would do justice to Hilda's book? How's this? The book is divided into meditations and inspirations that draw upon a very wide body of sources. For instance, Hilda refers to Kabbalistic influences to a large extent. Two of her meditations, "Shalom" and "Sleep, Derekh the Way" draw upon her Jewish upbringing.
Her "inspirations" run the gamut from Jewish-inspired to Hindu-derived. As well as being fluent in Hebrew, Yiddish and French, Hilda is also familiar with Sanskrit.
Here's an excerpt from an "inspiration" titled "Life Lesson", which shows the Hebrew and Hindu influences:
The power of our authenticity
lifts spirit, sense of being.
Remember all the storms of life subdued
simply with a shift of mood.
Vedic words Satya, truth; Prema love
blending energies above
Kehttter, crown,
unification's call.
Tifereht, beauty of it all,
and below to now bestow.
Malchut, foundation deep,
life's learning, oh the letting go.
"Chasia's Enchantment" will be released on January 28, which happens to coincide with Tu B'Shvat, while the preceding day, January 27, is International Holocaust Survivors Day.
The book is already generating a huge amount of buzz, as evidenced by a Google search for the title, which leads to quite a number of results – in many different languages.
But, as the publicist for the book noted in an email sent to me, " 'Chasia's Enchantment' is strongly relevant to Winnipeggers, since she was born in Winnipeg, and to the Jewish community all across the country and beyond."
"Chasia's Enchantment" was published by Durvile and UpRoute Books. . The book can be purchased through Amazon.ca, from the publisher's website at durvile.com or at bookstores across Canada.
On Wednesday, February 3, at 8 pm Winnipeg time Hilda will be launching her book via Zoom through Owlsnestbooks. To register for the Zoom session, go either to durvile.com or send an email to info@durvile.com.
Post script: I sent a draft of this article to Hilda for her to look over. Not to my surprise Hilda wasn't entirely happy with what I had written. We spent some time talking over the phone, during which Hilda said that it would be misleading to give readers the impression that her book would only have an impact on those who are already into meditation.
Then, she sent me this note: Please open for more about this brand new groundbreaking book because of what it contains – beautiful original poetry, art music and guided meditations that are inspired by things never put together before based on Yoga, meditation, Kabbalah, Torah, Judaism, Vedic teachings, pranayama (breath work) reminders, for enhancing body, mind and spirit towards all that fulfills us truly word by word, breath by breath, heartbeat by heartbeat, towards integrated inner peace, love and equanimity, motivating self love and love for others and the world. There are a few poems in Hebrew, Yiddish, French as well with translation amongst the many English poems of love, insights and inspiration for enhancing total wellbeing. What the book is based on are universal teachings for the whole world regardless of faith, because the unity is love! The paintings and music, the meditations in the book have a guided sound link and video link. The audiobook is soothing and uplifting.! The reviews by rabbis,a psychologist, a visual artist, a theatre artist, a hypnotherapist, a cantor in the book are testimonials to its timeliness and timelessness !