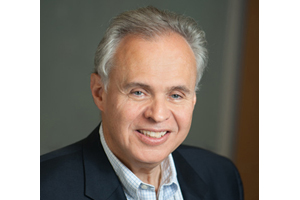 By GERRY POSNER When you talk psychiatry and Winnipeg Jews, you enter into a remarkable and lengthy area for discussion, perhaps even a book. Prominent among the names of Jewish boys who became psychiatrists is Molyn Leszcz – as in very prominent. He is, among other things, a professor in the Department of Psychiatry at the University of Toronto. How he got there from humble beginnings living on Ellice Avenue near his father's grocery store and also close to the University of Winnipeg is by itself a compelling story.
Molyn's parents, Saul and Clara Leszcz, both of whom were survivors of the Holocaust, came to Winnipeg in the early 1950s and it was not long before Saul had a grocery store. From these humble beginnings grew the Molyn Leszcz we know today. He clearly was goal oriented and had medicine on his mind early on in his life . He took the bus daily to Talmud Torah from his home and later, after the family had moved to Garden City, he attended Joseph Wolinsky Collegiate. He also graduated from the University of Winnipeg Collegiate and subsequently studied two years at the University of Winnipeg.
Subsequently, Molyn was accepted into the Faculty of Medicine at the University of Manitoba, from where he graduated in 1976, followed by two years of a residency program in Winnipeg at the Health Sciences Centre, then the two final years of his residency in Toronto.
Along the way- in 1975, Molyn married Bonnie Rappaport, whose last name will be familiar to many readers, as she was the daughter of the late Rabbi Shalom and Elaine Rappaport. Rabbi Rappaport had the great nachos to officiate at the wedding of his daughter to Molyn at the then Rosh Pina synagogue.
Following his residency, Molyn spent a year at Stanford University on a fellowship, which is when he had the good fortune to study under the highly respected Irvin Yalom. That relationship has since developed over many years now and Molyn acknowledges the enormous influence Yalom had on his career.
Molyn attributes his involvement in his particular field of group psychotherapy to Yolam's influence. In fact, Leszcz and Yolam have co-authored a book – now in its sixth edition and translated into no less than 20 different languages called "The Theory and Practice of Group Psychotherapy" – a core text for anyone in this field. As well, Molyn co- authored with University of Toronto colleagues another book in the "Psychotherapy Essentials To Go" series: "Achieving Psychotherapy Effectiveness".
Among other things Molyn Leszcz is a professor in the Department of Psychiatry at the University of Toronto. Moreover – and get this" Molyn is President of the American Group Psychotherapy Association, the first time a Canadian has held this lofty position. And, not to be overlooked is Molyn's past experience as Psychiatrist-in-Chief at the Sinai Health System from 2006-2017, also Vice-Chair of the Department of Psychiatry the University of Toronto from 2010- 2017, as well as Interim Chair of the Department of Psychiatry at the University of Toronto.
All of these titles brought with them enormous responsibilities and that Molyn carried them on for so long is a clear indication of why we can say "Leszcz is more". Another area which has brought Molyn recognition is his extensive work in the areas of physician wellness and leadership – in particular this past year – in relation to dealing with the effects of pandemic stress on health care providers. This is on top of leading conferences online with over 1,000 people in attendance. Molyn has also been recognized with a number of awards for his contributions to psychiatry and group therapy.
Of course, one might ask how it is that Molyn even became interested in group psychotherapy in the first place. Yes, he had the guidance and tutelage of Irvin Yolam, but there was much more to Molyn's inclination to enter into this area of psychiatry. Anyone who is familiar with group therapy will know that it is a form of psychotherapy involving one or more therapists working with several clients at the same time. There are often between seven to nine patients at one time, but they can be smaller groups.
Molyn says that what attracted him in the direction of group treatment was the fact that, as a child of Holocaust survivors, he witnessed the beneficial effects of this kind of group association and as a result, he saw this kind of meeting together as a natural and effective way to treat people suffering with psychiatric issues. As a result, he pursued this area of study to the point that it became a guiding focus of his life's work.
Molyn says he is gradually slowing down in his work, although it is difficult to see where this slowdown has occurred. He and Bonnie are the parents of three children, Ben, Talia and Noah, and now grandparents to four more Leszcz descendants. He still has ties to Winnipeg as his sister, Eva Azuelos, still lives there, as well as his brother-in-law, Allan Rappaport, along with several nephews, nieces and cousins. Molyn's family is important to him, just as his growing up in Winnipeg was. Winnipeg did well to produce so many Jewish psychiatrists, including Molyn Leszcz.