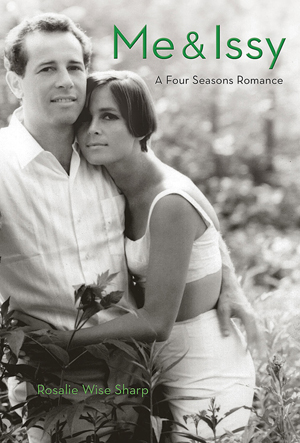 By BERNIE BELLAN I'm not much for reading autobiographies; I prefer to read someone else's account of a person's life because I figure you're much more likely to find out what someone's life was truly like when it was written by someone else – warts and all.
However, when I was asked whether I might like to receive an advance copy of the memoir of Rosalie Sharp whose name, to be honest, was unfamiliar to me – but who, I was informed, was the wife of Four Seasons Hotel founder Isadore Sharp – I thought: Sure, it's always interesting to read of the lives of the rich and famous – and when they're Jewish and Canadian to boot, let's go for it.
Now, to be even more honest, as much as I've heard plenty about Four Seasons hotels – that they set the standard for service and luxury when it comes to hotels, I had never read much about Isadore Sharp. How much would his wife want to talk about her husband in her memoir, I wondered? And how good a writer would she be?
The answer to the first question is: Quite a bit, while the answer to the second question is that Rosalie Sharp is an excellent writer. No doubt she received quite a bit of help in putting together this very interesting book but, as she explains early on, she has written quite a few books previously, mostly having to do with interior design – which is one of her two utmost passions – the other being painting.
What surprised me most about Rosalie Sharp though is how much her formative years as a young girl in Toronto still leave a strong imprint on her, even today, as she must now be 87. (She completed the book in 2021 when she was 86, she explains.) Isadore, by the way, is 91. They're both as healthy as one could hope two seniors in their dotage could be expected to be. As a matter of fact, "Rosie", as she prefers to be known, is quite candid in describing her own health situation. At one point she tells a funny story about having a colonoscopy recently, but while she is driving home in Issie's fancy Mercedes, she can't hold it in. She goes on to tell how she hid her accident from Issie when she came home, stripping off her dress without him seeing and running out to the car with a pail of soap and water and cleaning up.
The book is full of interesting stories. Rosie (née Wise) grew up in a very poor household in the 1930s – where there was no telephone, but where the phone book served as a substitute for toilet paper. Her parents lived in a non-Jewish area of Toronto, where they ran a dry goods store. Mr. Wise was also an excellent tailor. As for Mrs. Wise, however, Rosie still has an aversion to soup, she explains, after having grown up smelling her mother's absolutely horrible broth – which she could never bring herself to taste.
Although the book devotes a certain amount of space to describing Issy Sharp's much more comfortable upbringing – which Rosie writes about in an early chapter, prior to going into detail about her own much more difficult childhood, the lesson that one takes from reading about young Issy is how brimming with confidence he was, even at a very young age. Not only that, he was extremely good looking – as the very many photographs interspersed throughout the book illustrate.
He was also a terrific athlete. Issy was gifted in so many sports, while Rosie never had the opportunity to take piano lessons, which she so desperately wanted to take as a youngster. She also never learned to swim, she admits, but that didn't stop her from being a sport and donning a life jacket while going on a canoe trip with the family once – or even waterskiing.
The story how Issy and Rosie met at a wedding makes for a great romantic tale. But Rosie admits that she knew of Issy's reputation as a consummate ladies' man – and she honestly doubted that he would remain true to her once they became a couple. There are quite a few instances in the book when Rosie describes her own naiveté about sex – something with which Issy was extremely well versed. (He was 22 when they met; she was 17.) Yet, he was always extremely considerate toward Rosie when it came to the physical side of their relationship. She does reveal though that she became pregnant when she was only 19 and did have an abortion because neither she nor Issy were ready to start a family at that point.
While the book does a good job of delving into how Issy Sharp was an absolute genius when it came to building – not just hotels, but apartment blocks as well, to the point where, as of the date of publication of the book, there are now 134 Four Seasons hotels throughout the world, it wasn't the pursuit of riches that drove Issy, according to Rosie. They have certainly led very comfortable lives, but the first five years of their marriage were spent living in a very humble apartment, she says, and although they've moved several times during their lifetime together, it's been the building and decorating of homes that has been the attraction for them, rather than the accumulation of "toys."
In fact, Rosie never cared much about things like cars, she says. In one amusing anecdote she describes her driving in what she thought was a Toyota Land Cruiser for years, only to discover that it had a Volvo logo in it. As a collector though, Rosie has been obsessed with the accumulation of ceramic figures, along with a certain number of paintings, she notes – but it's her ceramic figure collection, which extends into the thousands, of which she's proudest.
Early on in life Rosie exhibited true artistic talent. She tells of drawing hand lettered signs for her parents' dry good store that were so well done that people seeing them thought they had been printed by a machine. Later she parlayed her artistic eye into a love for interior design. Even while she was raising four young boys, Issy encouraged her to acquire a formal education in interior design, which she did. She eventually opened her own interior design firm. Much of her work, as one might expect, was for Four Seasons hotels, but she wasn't given the work simply because she was married to the boss. Issy pays full credit to the many innovations Rosie introduced into the hotels over the years.
At times though, I must admit I was somewhat bored reading Rosie's quite detailed descriptions of her projects. While she is certainly extremely descriptive, I'm not sure how much readers really care to read about design – whether it be interior design or the design of ceramic objects. Of course, those are both two of Rosie's passions – and she is allowed to indulge herself as much as she likes. It's her memoir, after all.
Where I think Jewish readers of a certain age will find this book most resonating though is when Rosie writes about the many relatives she lost in the Holocaust. There is a great amount of time spent exploring the lives of her predecessors in Poland. Rosie can trace her family roots back to the 1700s. (She also does quite a bit of the same for the Sharp family.)
Both she and Issy grew up in Yiddish-speaking households and Rosie harbours a great deal of nostalgia for those early years. Like most Jews growing up in the 1930s the Wise household was an observant home. (She tells a hilarious story about being sent to a butcher a long way off to buy a chicken for the Friday night dinner, but having the bloody chicken, freshly slaughtered, ooze all over her on the bus ride home.) She also emphasizes how important having regular Shabbat dinners with their family has been for both her and Issy throughout their lives – only to see that disrupted when Covid hit. (As a matter of fact, it was Covid that led to her writing this book, as she found that she had quite a bit more time on her hands than would normally have been the course.) In a departure from her observant upbringing though, Rosie says the only time she sets foot in a synagogue nowadays is during Yom Kippur – and that she doesn't believe in God.
Interestingly, while Rosie acknowledges the role she's played for years as the wife of a charming and brilliantly successful businessman, accompanying him on many trips to far off lands where it was her duty to sit through endless dinners with some of the world's most powerful figures (including one ghastly dinner in Japan where she says the fish that was served was still wriggling!), Rosie hardly sees herself as a society maven. She did her duty – and often contributed to the success of Four Seasons on her own, both as a designer and as the gracious wife of a very powerful man, yet she notes over and over again that she feels most at home in her own house – and there have been many different ones over the years, including a home that they rebuilt from scratch in Palm Springs.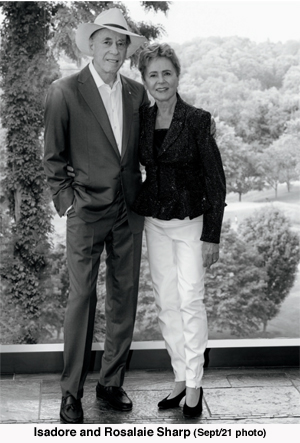 Here's a description of Issie and Rosie's harmonious relationship, as given by their son Tony on the occasion of their 62nd wedding anniversary:
"She paints. He promotes. They are full-fledged partners in life.
"Partners in bridge: she is the one who takes the risks and swings for the fences, and he plays more by the book and the percentages, yet rarely an argument, and they regularly place near the top.
"Partners in design…not the least of which is their new bungalow, where our dad concerned himself with light, views, and land assembly, and our mom, the architecture, interior design…Partners in dance. and, can they dance! Partners in fitness – still following Jane Fonda's Advanced Workout from 1985…
"Partners in philanthropy. Including what our mother considers one of our father's best achievements: establishing the Terry Fox Run. Proposed in a telegram from our dad to Terry, the run is now the largest single-day fundraising event in the world, having raised $750 million for cancer research.
"And of course, partners as parents. Sharing and living the values that have guided us as a family, and for which we are grateful."
By this time, if you've read this far, you must be thinking: What a perfect couple – and I'm sure they are, but if I could ask two questions of Rosie, they would be this:
You had a son named Chris who died tragically at only age 17 when a melanoma was improperly diagnosed by a doctor. You write so eloquently of what that loss meant to the two of you – as I'm sure it would to any other parents who have lost a child.
But – why "Chris?" I know that it's not totally unheard of for a Jewish child to be named Chris or Kristina, although from what I've read, it's often when one of the parents isn't Jewish. But both you and Issy came from traditional Jewish upbringings. Was there a particular reason that you chose to name your youngest son "Chris?"
And, my second question: I had to do some research to see that you and Issy have contributed substantially to many different causes, including the Hebrew University of Jerusalem. But nowhere in your book do I see any evidence that you took a particular interest in philanthropy yourself, especially as it relates to Jewish causes. I would imagine that someone of your renown would have been asked many times to lend their name to a particular Jewish fund-raiser. Perhaps it wasn't of sufficient interest for you to write about that – or maybe it just wasn't your thing. But, as someone who espouses the importance of Jewish values so strongly, wouldn't "tzedakkah" have been one of the most important values? I'm not saying this as a criticism because I see that when you do a search of all the causes to which you and Issy have contributed, the list is a lengthy one. But I'm somewhat puzzled that, other than the Terry Fox Run, there's no mention of any other cause to which you might have attached yourselves. After all, Issy is worth over $500 million from what I've read (while the Four Season hotel chain, which is now owned primarily by Bill Gates – is valued at over $10 billion).
Still, let' s not let these fairly petty questions detract from what is, on the whole, quite the entertaining read.
"Me & Issy – A Four Seasons Romance"
By Rosalie Wise Sharp
Published by ECW Press, Toronto, 2022
274 pages
Available in both print and Kindle editions