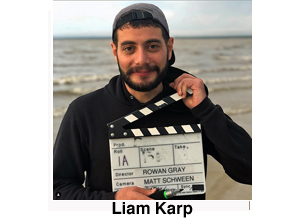 By MYRON LOVE When The Jewish Post & News last touched base with Liam Karp, he had recently returned from a trip to Jordan where he was part of a film crew – he was assistant director – filming the Canadian-made feature, "Hyena Road", a fictionalized account of the Canadian military experience in Kandahar in southern Afghanistan.
"We did half the filming in Aqaba in southern Jordan," noted Karp at that time of his second visit to Jordan. (The first time Karp was in Jordan was when he was 14. He and his family _ his parents are Morris and Marsha Karp – were visiting Israel and took a side trip to Petra.) "The Jordanians were really hospitable. It was beautiful where we were but a lot colder in northern Jordan."
(The rest of the filming was at Camp Shiloh.)
Fast forward seven years and the young filmmaker would seem to have built a successful career as the go-to guy for visual effects for movies and television series being shot in and around Winnipeg. Included in his film resumé are a couple of Christmas movies,"The Ice Road" movie (starring Leeam Neeson), a television series, "Channel Zero" (which was filmed her in 2018), last spring's CBC production, "The Porter" (which was produced by Winnipeg's own Ian Dimerman), the current "Sky Med," and the upcoming "Safehaven".
So, I ased Karp what a visual effects supervisor does? "My role is to supervise scenes as they are shot that require CGI later," he responded. "I insure they shoot them correctly so artists can add digital effects later as smoothly as possible.
"In 'The Porter,' for example, the series was set in the 1920s, soon after World War I. As visual effects supervisor, I had to ensure that any items in the scenes that would be out of place – say, air conditioners – in that era were removed.
"I work closely with the director on the set mapping out the digital enhancements and making sure that after adding the effects, the finished product aligns with the director's creative vision."
The former Brock Corydon student and Grant Park High School graduate's interest in film comes naturally. Both his father, Morris, and his uncle, Carl Karp, were long time CBC producers.
The younger Karp studied film and theatre at the University of Winnipeg. While he began his career in filmmaking as a production assistant, he notes, there are many career paths that one can choose to pursue behind the scenes.
"I have a computer background and I did some digital work in university," he said. "Digital artistry is a perfect fit for me."
The young artist though, also has ambitions to write and produce films of his own. He is currently working on one such project – a short (10-minute) feature which he is in the process of editing. The film is semi autobiographical. It is the story of a young Jewish boy whose zaida, a Holocaust survivor, is in a nursing home and has come to spend one night with the family. The boy can't help but observe his zaida's unusual behavior.
"My own grandfather (the late Harry Karp) was a Holocaust survivor, Liam noted. "I know first- hand how the experience of the Holocaust continues to have a lingering effect on survivors and is passed down through the generations."
To play the lead role of the zaida, Karp recruited Harry Nelken, one of our community's most seasoned actors. "I needed an actor who could speak Yiddish," he said. "And is also the son of Holocaust survivors."
Karp noted that he received grants from the Jewish Foundation of Manitoba and Manitoba Film and Music to help fund his short film. He said that he hopes to have the film ready for viewing some time next year and is looking into different film festivals.
For relaxation, he also enjoys kicking back at the family cottage at Black Sturgeon Lake in the Whiteshell.
In addition to his love for filmmaking, Karp has a passion for music. He mentioned that he plays guitar and drums and gets together with friends once a week to jam. "We used to do live shows," he said. "I loved that but, things change in people's lives with kids coming along and careers."