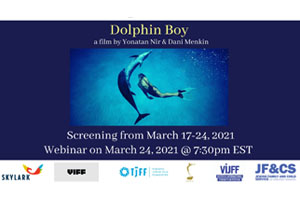 In March, the Consulate General of Israel in Toronto and Western Canada will join forces with prominent Israeli Director Yonatan Nir to screen his film Dolphin Boy. The film will be available for free from March 17 to 24 and will be accompanied by an exclusive webinar with Nir himself on March 24.
The initiative is the third installment in a series of four films from Nir being offered by the Consulate in an ongoing effort to promote cultural cooperation between Israel and Canada, as well as share high-quality Israeli cultural content to Canadian audiences. Previous screenings for the films My Hero Brother and The Essential Link: The Story of Wilfrid Israel were greatly successful, garnering thousands of views and the webinars were attended by multiple Canadian elected officials.
Film Synopsis:
Morad lived in an Arab village in the north of Israel. He was socially popular, loved by his family, an athlete and a good student. One night, in the fall of 2006, he is beaten cruelly by his classmates, who mistakenly accuse him of having an affair with their engaged cousin. Morad is taken to the hospital by his father, Asad. Physically he recovers from his wounds within days; however, he does not speak or respond to anything for weeks. Many conventional treatment methods were tried, all of which failed. Rather than hospitalizing him in a mental institution, Psychiatrist Dr. Ilan Kutz, sends Morad to a treatment with dolphins in the Eilat. Morad's father takes him to the Red Sea vowing to himself to come back to the village, only when his son is healthy. Surrounded by endless desert, red mountains and deep blue sea, Eilat is an escape town for Morad. He begins to undergo a therapy and develops an exceptional relationship with the dolphins. He becomes an excellent free diver and is able to dive down to 30 meters. Morad starts speaking again after three months of silence; however, the "reborn" Morad detaches himself from his past and refuses to return to his village, instead he develops a relationship with a Jewish girl. This documentary tells the story of the devastating havoc that human violence can wreak upon the human soul, and about the healing powers of nature and of love.
Dolphin Boy will be available for free to all those who wish to view between March 17-24 at the following link: https://vimeo.com/yonatannir/db-toronto
Registration for the webinar with Yonatan Nir can be found at the following link: https://www.eventbrite.com/e/dolphin-boy-webinar-with-yonatan-nir-tickets-142919657543