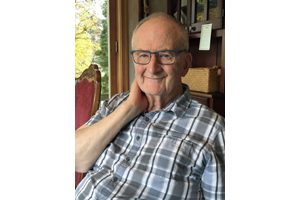 Peacefully, on June 21, with family by his side, Harry Prosen sadly passed away at his home in Mequon, Wisconsin.
Harry is survived by his four children, Patricia and her husband Doug, Jory and his wife Lolita, Deidre and her husband Michael, his son David; his sister-in-law Jean Prosen; and nieces, Leandrea and Jennifer; and nephew Jonathon. Harry was predeceased by his wife Yvonne; his parents, Felix and Ruth Prosen; and his brother Melvin Prosen.
Harry was born in Saskatoon, Saskatchewan, to Felix and Ruth Prosen. He lived the first part of his childhood in Calgary and then moved to Winnipeg where he worked from a young age to put himself through medical school. He met his wife, Yvonne, on a blind date and they were married for 60 years. Harry was an outstanding student who received his MD from the University of Manitoba in 1955 and completed a residency in psychiatry at the University of Chicago studying under Heinz Kohut. He went on to lead two departments of psychiatry for 28 years, first in Winnipeg at the University of Manitoba (1975 to 1987) and then in Milwaukee at the Medical College of Wisconsin (1987 to 2003). He retired in 2003 and was bestowed with the Distinguished Service Award by MCW. His professional legacy includes an ardent dedication to his patients, advocating for mental health awareness, producing numerous books and publications, helping to build the departments and their reputations, while promoting research and overseeing the training of many future psychiatrists. He was an Emeritus Professor of Psychiatry and Behavioural Medicine and a past president of the Canadian Psychiatric Association (1978 to 1979). He also had leadership roles with the Royal College of Physicians and Surgeons of Canada and the American Psychiatric Association. More recently he became interested in organizations focused on advancing a more humane and empathetic world (World Transformation Movement in Australia) as well as working with zoos to improve the lives and mental wellbeing of primate species in captivity – something he was tremendously proud of.
Harry was an avid reader, a lifelong learner and continued to keep active and intellectually engaged with friends and family. He loved fishing in Vermillion Bay, Ontario and travelling all over the world. He loved to drive and frequently made the trip back to Winnipeg to visit family and friends once he was retired. He was immensely proud of his children and grandchildren. His greatest joy came from having his wife, children and grandchildren around. Nothing made him happier. He loved his grandchildren and enjoyed spending time with them – Benjamin, Mathilde, Leo and Jaevin. In October 2020, Yvonne sadly passed away and Harry recently told his family that he just missed her too much. He leaves his family and friends blessed by his memory and immense love.
In lieu of flowers, donations can be made to the Canadian Mental Health Association in Harry's name. You can reach them at mbwpg.cmha.ca . Click the three little lines to get to donations and in the additional comments box please state that it is for Harry Prosen. Thank you.
We will be making arrangements for a memorial.