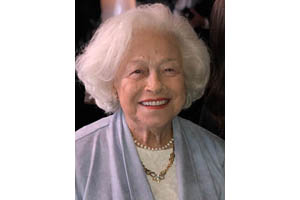 Unexpectedly, our mother, Henny Paritzky, passed away on August 25, 2021, at the age of 94. She was predeceased by her devoted husband Abraham and her sister Branka and is survived by her three children, Ron (Esther), Gilead, and Rachel (Blair), and her seven grandchildren.
Born in Poland in 1927, Henny and her family moved to Holland several years later for a better life. Little did she know that her happy childhood with her younger sister Branka would end with the war, the invasion of Holland, the imposition of restrictions, and eventually the deportation of the Jewish population to concentration camps.
Henny, Branka, and their loving parents survived the war through the kindness of strangers, incredible luck and quick-wittedness, and her father's planning. They never made it to Switzerland as planned, but were able to remain in France by masquerading as Protestants. Almost all of her relatives were not so lucky and perished.
The lessons of the war were not lost on our mother, who chose to focus on the acts of those who helped her family survive. This is what informed her post-war life. She learned how to smile again and almost every picture of her includes her beautiful smile.
Several years after the war, Henny went to study at Hebrew University in the newly established state of Israel. There she met the love of her life, Abraham, a university student (and dashing reservist). They married in 1951 and after several years in Israel, where their son Ron was born, Henny and Abraham moved to Winnipeg where both were beloved Hebrew and Judaic studies educators and active members of the Jewish community. In Winnipeg, their family grew with the arrival of their son Gilead and daughter Rachel.
Henny had a long and very meaningful career in Jewish education as a teacher and then as a principal. Teaching was her passion and it showed. Her secret? A genuine interest in each and every student, many of whom remained in touch with her decades later.
Our mother had many other passions and interests in her life. She spoke six, or was it seven, languages fluently, and when she and her sister spoke, they flitted from language to language without stopping to take a breath, other than to puff on their cigarettes. After retirement, she even occasionally worked as an interpreter.
Henny was a voracious reader and typically had a half dozen on the go at a time. She was a facilitator for reading groups and told us she recently received a small honorarium from one such group and that being capable of receiving it in her 90s meant more than her salary as a principal.
She often spoke publicly about her experiences in the war including on panels and at various schools. She believed it was her obligation as a survivor to teach young people about the lessons to be learned from her experiences.
She had a marvellous, self-deprecating sense of humour. Last year as she was struggling with her walker, she started laughing out loud and said "Oh my, I'm walking like…walking like…an old woman". She especially enjoyed laughing at the results of her cooking and, brilliant woman that she was, never even tried to bake after her first few mishaps. A loving mother, mother-in-law, Oma, and friend, she is forever in our hearts and will be deeply missed.
The family has been overwhelmed by the expressions of sympathy from friends and the community at large, many of which came from former students who treasured their memories of Henny as a very special teacher.
Donations in memory of Henny may be made to a charity of one's choice.