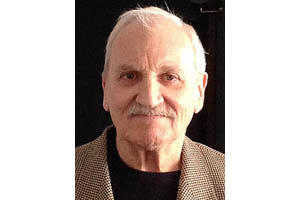 With great sadness we announce the sudden passing of Sid Wolchock on August 22, 2021, at the age of 82.
Devoted husband to Sharon, adored father of Serena and Guy, Shauna and Abbas, and legendary Zaida to Omri, Zac, Noam, and Ben. Sid will be remembered by his sister-in-law Penny Ganetsky and his many loving nieces and nephews.
Sid was predeceased by his parents Rose and Bill Wolchock, brothers Leonard, Harvey, and Bernie, and in-laws Ruth and Bernie Mondell.
Sid grew up in East Kildonian and attended Machray School and later St. John's High School, where at age 15 he met Sharon, his wife of 61 years.
Sid graduated from the University of Manitoba Faculty of Law in 1964 and was both gold medalist and recipient of the Honourable Alexander Morris Exhibition Prize. After graduation, Sid practiced law for over 50 years and was a great lawyer, well respected by both colleagues and clients.
Sid was a proud Winnipegger and an unconditional supporter of Israel as reflected by his personal involvement and generosity to many organizations both in Winnipeg and in Israel.
Sid was an avid collector, an artist, a lover of art and opera, and enjoyed visiting small galleries, forming personal relationships with many artists. He had a deep interest in history and a passion for aviation.
Sid enjoyed nothing more than a good phone call, a visit, and lunch at Rae and Jerry's. He was genuinely interested in everyone and everything. Sid had many meaningful friendships and unparalleled communication skills, both a great conversationalist and a truly attentive listener. "I never had a discussion with Sid that didn't leave me with the feeling of knowing more at the end than at the beginning", wrote one of his close friends.
The highlight of Sid's day was a conversation with his grandsons, "the manskees".
He was deeply interested in their lives, and loved discussing whatever was of interest to them: politics, history, sports, and finance, sharing his own experiences and his vast knowledge and wisdom.
A graveside funeral service was officiated by Rabbi Matthew Leibl at the Rosh Pina Memorial Park on August 24, 2021. Pallbearers were Zac Merhi, Joe Wolchock, Josh Wolchock, Hannah Wolchock, Morgan Ganetsky, and Braden Ganetsky.
Donations in Sid's memory may be made to the Jewish Foundation of Manitoba.