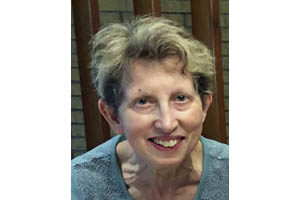 With great sadness we announce the passing of Judith Rebecca Putter z'l, who leaves to mourn her brothers David (Sharon) Putter and Daniel Putter and her brother-in-law Edward Shinewald.
Judith also leaves many nieces, nephews, grandnieces and grandnephews across the Putter, Sabourin, Shinewald, Stevens and Johnson families, as well as many wonderful friends and close neighbours. She was predeceased by her sister Sharon Shinewald, her parents Joseph and Rochelle Putter and her grandparents Levi and Fanny Sommer and Sender and Chaya Putter. She was also a loving dog owner to Mickey, Malka and Laila.
Judith was born in Montreal on September 2, 1948 and spent significant time as a younger adult in Haifa, Israel and in Calgary, but lived most of her life in Winnipeg, which she loved. She combined her CA designation with her passion for fine arts as the proprietor of the Thomas Gallery and then later became a successful consultant with Investors Group. Judith was deeply passionate about the arts, was a voracious reader and a dedicated volunteer in Winnipeg's Jewish and broader communities. She lived an extremely healthy life centred around family, friends and the arts and never cared about (or even noticed) the latest trend. She barely ever watched television.
Judith passed away from cancer on September 19, 2021. Her family thanks all the wonderful teams at the hospitals where she spent her final weeks and, in particular, her cousin Dr. Hillel Sommer. Kindly consider honouring Judith's memory by donating to the Winnipeg Jewish Theatre, on whose board Judith sat, or to the Judith Putter Women's Endowment Fund at the Jewish Foundation of Manitoba.
Judith was one-of-a-kind. She was a great sister, aunt and friend. She is already deeply missed by her community – and always will be.