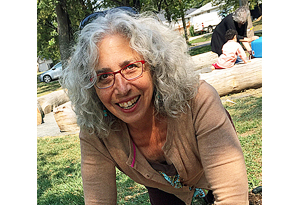 Lee Anne Block died peacefully on Saturday from pancreatic cancer. She was 70.
A few weeks earlier, Lee Anne was teaching at the University of Winnipeg, playing with grandkids and frustrated by some persistent stomach discomfort that was evolving into pain. She was also glowing after a joyous trip to see her grandsons, Sam and Ari.
Lee Anne grew up in Winnipeg's vibrant North End Jewish community. The eldest of three sisters, her neighbourhood was filled with cousins and friends whom she cherished throughout her life.
Lee Anne met her first husband, Sheldon Oberman, when registering for classes at the University of Winnipeg. They had two children together, Adam and Mira, and later became a model of how to cooperatively co-parent post divorce.
Lee Anne taught middle school and English as a Second Language in Seven Oaks School Division and was active in Winnipeg's theatre community. A major project was co-producing a community theatre production about women's struggles with mental health.
She moved to Toronto in 1995 and obtained her Master's degree from the Ontario Institute for Studies in Education of the University of Toronto.
On a visit home over the winter break of 1997, Lee Anne's former mother-in-law introduced her to Richard Grunfeld. Her life was forever changed for the better.
Not long after she moved back to Winnipeg to be with Richard, Lee Anne decided to continue her academic career. She obtained a PhD from the University of North Dakota. Lee Anne was hired by the University of Winnipeg's Faculty of Education; where she obtained tenure in 2016. A passionate educator, her research focused on place-based learning and sustainability.
Lee Anne helped create the Langside Learning Garden, a partnership with Spence Neighbourhood Association – to develop sustainable urban gardening, and also worked on projects related to greenspace used by teachers, outdoor learning, and the importance of school gardens.
Lee Anne worked with a remarkable group of people to create the Kapabamayak Achaak Healing Forest Winnipeg in St. John's Park. The Healing Forest is a living memorial to Indigenous children and families lost to or affected by the residential school system. Lee Anne helped develop educational programming and curriculum so neighbourhood schools could use the space for outdoor learning.
Her academic and community service work was recognized with the University's 2018 Faculty and Staff Campus Sustainability Recognition Award.
Lee Anne is survived by: her mother Jeanette Block; her partner Richard Grunfeld; her children, Adam Oberman (Jill) and Mira Oberman (Brent); stepsons, Ben Grunfeld (Pancham) and Aaron (Alina); her grandchildren, Rani, Sam, Daniel, Lizzy, Ari, Asa and Finn; her sisters, Rhea Tregebov (Sam) and Sheila Block (Marylin); her brother-in-law Tom (Leslie); along with beloved cousins and many dear friends. She was predeceased by her father Sam Block.
A funeral was held on Tuesday, February 22, 2022.
A "Baba's Bannock and Jam" Fund is being established to honour Lee Anne's legacy. It will support educational programming – and snacks for visiting school children – at the Healing Forest. Donations can be sent to St. John's Anglican Cathedral, "Kapabamayak Achaak Healing Forest", 135 Anderson Avenue, Winnipeg, MB R2W 5M9.