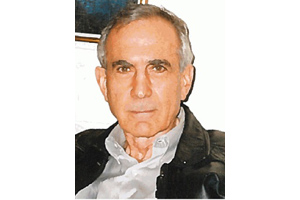 It is with profound sadness that the family and friends of Norman Tatelman (Nuchum ben Nateh V'yocheved) announce his passing on January 12, 2021 (28th of Tevet 5781), at 89 years of age.
Born in Winnipeg on July 31st 1931, to Nathan Tatelman and Lillian Tatelman (née Luginsky), Norman was predeceased by his parents and brother Martin, all of blessed memory. Norman is survived by his dear partner Ruby Swartz, and her children Jennifer (Larry), Anthony (Hayley-Ann), and Allison, Jennifer's children Ryan and Courtney, his nephews (Martin's children), Kerry, Joel and Jack, Kerry's son Adam, Joel's daughter Sara, his best friend Joey Pollock (Laura), and their children Samantha (Ben), Danielle (Jonathan), Liam, and little Max, and Ruby's lifelong and dearest friend Miriam Jaeger.
Norman was a quiet soul and a man of few words. Those who knew him knew of his kindness, intellect, generosity, philanthropy and tremendous sense of humor. Norman adored and cherished the last 26 years with Ruby, especially their winter vacations in Palm Springs, where he knew how happy Ruby was being able to spend the weekends with Jennifer, Anthony and Allison, with whom he was especially close and who would travel from Los Angeles, Calgary and San Diego respectively just to be with Ruby and Norman. Without any doubt, Norman considered his years with Ruby to be the best years of his life.
Norman graduated from law school in the mid 1950's, at which point he entered the family business with his father and brother. Norman eventually went out on his own to establish a successful packaging business, and retired in the early 90's. It was shortly thereafter that he met Ruby, and their wonderful life together began.
Norman will be dearly missed.
Special thanks to Cantor Tracy Kasner for her beautiful and touching eulogy, expressing in her own words what Ruby, family and friends felt about Norman. Thi nishmatoh tzrurah btzur chayim -may his soul be bound up in the bond of life, may he forever rest in peace
I will miss and always love you Normie.