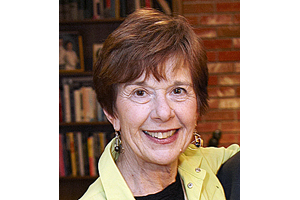 It is with profound sadness that the family of Sondra Goodman announces her passing on Friday, October 2nd, 2020, in Calgary, Alberta, one month shy of her 80th birthday.
After a year long battle with lung cancer, she died at home, peacefully, in her sleep.
Sondra was born in Winnipeg to the late Gertie and Harry Knelman, and grew up in a rich and warm environment surrounded by her sisters, cousins, and a large extended family. Sondra was active in many jewish youth organizations and always had many friends. She excelled academically and loved learning, and this love carried on through her life and was passed on to her children and grandchildren. Sondra received her Bachelor of Education, Bachelor of Arts and Masters of Education, and she had a 33 year teaching career that included time as a teacher, counsellor, assistant principal and principal, as well as a second career as a career placement counsellor.
It was at the wedding of her favourite teacher that she met her soon to be husband George Goodman, and after a two year courtship, was happily and lovingly married to him for 60 years. They were thrilled with the arrival of daughter Robin and son Saul, and eventually with the inclusion of daughter-in-law Christine and grandchildren Rachel and Elisha, with whom she had a special bond.
Sondra's family meant everything to her, and if they were happy, she was happy. She was always there providing love, guidance, support and a shoulder to cry on. Nothing made Sondra happier than to be with her children and grandchildren, and she loved having the whole family together for Passover, the High Holidays, and any other occasion she could think of. She was a person who was deeply kind, empathetic and loving, and had a wonderful, gentle and wry sense of humour. She was the lynchpin of the family, and is mourned and will be deeply and forever missed by her husband, children and grandchildren. She will also be deeply missed by her sisters Phyllis (Ron) Levin and Dena (Jack) Perlov, sisters-in-law Sylvia Richman, Judy Goodman and Audrey (Phillip) Unger and a large extended family.
The family is grateful for the friendship and help they received from Yordi Binning, and for the sage advice and wisdom of Dr. Stephanie Kerwin. Donations may be made to the Sondra Goodman Memorial Fund at the Jewish Family Service of Calgary, or to a charity of your choice.