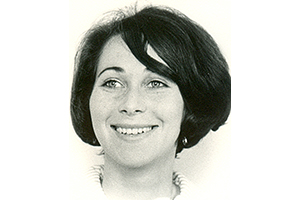 Our deeply loved Sylvia Topper left us on the evening February 2nd, 2020, a few hours before her 77th birthday, eventually succumbing to the dementia that ate away at her personality for last six years of her life. Mourning their loss are her husband David, sons Steve (Hope) and Romi (Cathy), and granddaughter Alexis. Her siblings Judy (Mark), George (Janet), and many relatives, friends, and neighbours.
Also, her dear friends Lynne, Faye, Hilda, Ruth, Becky, Mary, and many other others, especially our family at Temple Shalom – all of whom always treated her with proper dignity throughout the dark times.
Sylvia (née Aronson) Topper was born in 1943 and grew up in Chicago. She attended High School in Evanston, and after graduation spent a year in Israel working on a kibbutz. She obtained her undergraduate degree in Social Work (BSW) from Ohio State University, and her Master's Degree in Clinical Social Work (MSW) from Case Western Reserve University in Cleveland, specializing in psychotherapy. After working in Cleveland and Chicago, she moved to Winnipeg in the summer of 1970 with her husband. She resumed her career in Canada and eventually opened a private practice in psychotherapy, working mainly with adults (individuals and couples). She was a group therapist for the River Heights Family Life Education Centre from 1973-1981, where she ran grief recovery groups, a program that she developed. For the Centre, she also designed the Mothers and Twos program, which was offered extensively in Winnipeg for many years. In addition, she was President of the Centre for a year. During her career in Winnipeg, she was active in her profession, giving lectures, acting as a consultant, attending conferences, taking professional development courses, and acquiring advanced accreditations. As well, she was a member of several organizations (often assuming various executive roles): River Heights Family Life, National Council of Jewish Women of Canada, Provincial Council of Women of Manitoba, Woman's Health Clinic, and especially Temple Shalom. Sadly, near the end of 2015, Sylvia was forced to terminate all this work and involvement because of the progressing dementia.
Sylvia was an empathetic but gutsy woman. When son, Romi, at five-years-old, was in hospital with a case of cellulitis that almost killed him, she insisted in being provided with a cot so that one parent could stay the night; she was not going let Romi sleep alone.
It may be little known that Sylvia was also a very skilled seamstress. She would cover the dining room table with scraps of tissue and cloth, and turn them into dresses, blouses, even a coat. She was very proficient. David was in awe; he called the process a metamorphosis.
The toil on Sylvia's family during this long ordeal was mitigated by the support of family and friends, and the kindness and gentleness shown by the many caregivers who have passed though these latter years of her life. These include both the caregivers and the administrative staff at the Simkin Centre (notably Simkin 2 and Weinberg 1), and those in the WRHA who the family depended upon. We feel blessed to live in such a compassionate culture.
A graveside service took place on February 6, 2020 at Bet Chaim/Mikdash Shalom in Chapel Lawn Memorial Gardens. Pallbearers were Romi Topper, Steve Topper, George Aronson, Marc Hilton, Hayden Aronson, & Rebecca Toolan. Honorary pallbearers were Hope Topper, Judy Aronson, Lynne Ostrow, Faye Mount, Hilda Schwartz, & Ruth Livingston. Donations in Sylvia's memory may be made to Temple Shalom, 1077 Grant Avenue, Winnipeg, MB, R3M 1Y6, or the charity of your choice.