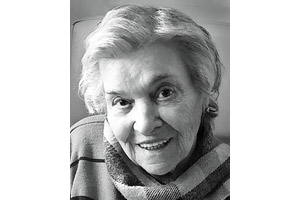 With deep sadness we announce the passing of Toby Gutwilik on April 8th, 2021 at the age of 93.
She is survived by her children Jack (Shari), Hersh (Francine) and Fay-Lynn (Martin), grand-children, Micha (John), Matthew (Desiree), Cara (David), Jonathan (Rachel), Jacqui and Sabrina and great-grandchildren Malachi, Miles and Lyla.
She will also be missed by her nieces, cousins and friends. She was predeceased by her grandparents, parents and brothers who perished in the Holocaust, by her husband Mayer and by her son-in-law Phil.
Toby was born in Czechoslovakia and had a happy childhood, loving parents, two brothers and grandparents. She was separated from her family in 1944 and sent to three concentration camps, Auschwitz, then Hamburg and finally Bergen-Belsen from where she was liberated by the Swedish Red Cross at the end of the war in May, 1945. At age 18, she was the only member of her immediate family to survive the Holocaust. After the war, she was brought to Canada by her uncle who was living in Saskatchewan. There she met her husband Mayer who was also brought over to Canada after the war. They married in 1950 and started a family immediately. With baby Jack in tow, they moved to Winnipeg and had two more children, Hersh and Fay-Lynn. They made a new life in Winnipeg and made many close friends who became their family. Toby was very involved with a women's group of Holocaust survivors.
Toby was a woman of many talents. She was a remarkable cook and baker. Cooking for Shabbat and the Jewish holidays was her pleasure and she made sure to always cook each person's favourites. She was well known for the best gefilte fish, matzah balls, blintzes, knishes, kreplach, perogies, cabbage rolls, sweet kugel, bubka, latkes and hamantashen.
Kindness and generosity came naturally to Toby. There was always a place at her table for anyone who did not have somewhere to spend the holidays. Her home was open to all. A natural social worker, without a degree, Toby helped many people with a variety of problems ranging from loneliness, poverty or domestic violence.
Toby had a tremendous work ethic. She ran two grocery stores and then worked at the Sharon Home as a dietary aide. Her hard work was motivated by being able to provide her children with as many opportunities as possible and most of all, a Jewish education. Toby did everything with a love of her Jewish heritage. She kept a kosher home and loved hosting Shabbat and holiday dinners and continued to do so until recently.
Family was Toby's priority. This included extended family and making her home their home. Toby was a devoted grandmother. There was nothing she would not and did not do for any of her grandchildren, including travelling to Toronto, New York or New Jersey to help with new babies, or spending several days a week helping with her triplet grandchildren. She attended all school events and concerts. Nothing gave her more happiness than her grandchildren. She was thrilled to be able to attend all bar and bat mitzvahs and thrilled to dance at each of the triplet's weddings. She was overjoyed by the birth of each of her three great-grandchildren and thrilled to be involved in their lives in any way she could, which included cooking homemade baby food. She was excited to know a fourth great- grandchild was on the way.
Toby was devoted to her husband Mayer. When he suffered a stroke at age 80, she was determined to make sure he was well cared for in their own home. She focused all her energy on his care and, with the help of dedicated home care workers, was able to care for him at home until the last two weeks of his life. After he passed away in 2014, and her health problems began she decided to focus on her own health to ensure she lived as long as she could. Daily, she walked the track at the Rady Centre, until she was no longer able to. She was proud to manage her blood sugars, weight and cardiac stability. She was the model patient for her family doctors and many specialists she needed over the last decade.
Toby's smile and loving, caring, nature will be forever remembered and sadly missed by her children, grandchildren and great-grandchildren.
The family would like to extend their appreciation and gratitude to Toby's family doctor, Dr. Permack, and to Toby's team of amazing caregivers, Imelda, Irene, Fiknete, Sathy and Gisele, along with all other doctors and home care workers who have crossed paths with Toby and her husband over the last decade. All of these people greatly enhanced the quality of Toby's life as she battled many illnesses. The family would also like to thank all extended family and friends who have supported them during this difficult time.
Graveside funeral service was officiated by Rabbi Matthew Leibl on April 11th, 2021 at the Shaarey Zedek Cemetery. Pallbearers were: grandchildren Matthew and Desiree, Cara and David, Jonathan and family friend Gary Levine. Memorial donations may be made to the Toby and Mayer Holocaust Education Fund at the Jewish Foundation of Manitoba, to the Rady Jewish Community Centre, to the Shaarey Zedek Synagogue, or to a charity of your choice.