A NYC exhibit explores the etrog's journey around the Jewish world
(New York Jewish Week) — If you have never heard of an "etroger," a Yiddish term for a Jewish merchant who sold citrons to Jewish communities in central and northern Europe during the Middle Ages and beyond, you are not alone. Josh Teplitsky, an associate professor of Jewish history at the University of Pennsylvania, was not familiar with the term, either. When he came across mention of an etroger in his research on a book about the Chief Rabbi of Prague, he was compelled to learn more.
The thick-skinned citron is required for various rituals during the harvest holiday of Sukkot (which starts this year tonight at sundown and runs through Friday, Oct. 6). The fruit hails from tropical and sub-tropical climes; procuring and distributing them in the pre-Industrial era would not have been a simple task.
Together with Warren Klein, the curator of the Bernard Museum of Judaica at Temple Emanu-El, and Sharon Liberman Mintz, curator of Jewish art at the library of the Jewish Theological Seminary, Teplitsky did a deep dive into the etrog.
"My ancestors came from Eastern Europe. How would they have procured an etrog for the holiday?" Klein told the New York Jewish Week. Learning about the etroger "was an amazing 'aha' moment. It makes so much sense."
The trio's probing into the history, use, care, dissemination and symbolism of the etrog culminated in a book, "Be Fruitful: The Etrog in Jewish Art, Culture and History" that was published in 2022. From that research was born the exhibit, "Etrog, The Wandering Fruit," currently on display at the Bernard Museum, located inside Temple Emanu-El on 5th Avenue and 65th Street in Manhattan.
According to Klein, this is the first-ever museum exhibit devoted solely to the story of this citrus, which is depicted in ancient Jewish artifacts. "We spent most of COVID editing the volume, and the idea was to turn the research into this exhibition," Klein said. "It was too visual and too good not to educate the world."
The three scholars gathered other scholars, curators, collectors and artists to create a 360-degree study of the etrog: from its origins in China, its distribution across the globe by Persian merchants, its seminal role in the harvest holiday of Sukkot and how it came to be associated with the Temple in Jerusalem and the Land of Israel.
The exhibit includes early depictions and mentions of the etrog in a variety of sources and objects, including bronze coins minted at the time of the destruction of the Second Temple in Jerusalem in 70 CE, which are stamped with a likeness of the fruit, and mosaic inlays from a synagogue floor in Tiberias, Israel that dates between the 6th and 8th centuries CE.
The more than 100 examples of etrog-related ephemera come from 20 different lenders, both public and private, including the Jewish Museum, the New York Botanical Garden Library and the American Numismatic Society. In addition to etrog containers, and documents about the etroger, there are illuminated pages — originals and facsimiles — in which the etrog appears.
"The facsimile of the Rothschild Miscellany is the most special — it is the most beautiful Hebrew manuscript ever created," Mintz said. The ornate manuscript from Northern Italy, which dates to the 15th century, offers "a rare window into the religious customs, daily lives and fashion of Italian Renaissance," according to UNESCO. At the museum, the image on display shows a white-bearded man, his head covered in a prayer shawl, holding a bumpy etrog in his left hand with the lulav, consisting of a frond of a date palm tree, willow and myrtle, in his other. (Together, these items are known as the four species, which represent the four-letter Name of God, among other things, and are a key feature of Sukkot.)
On display, too, are boxes designed to hold the fruit, which range from ornate to simple. "The etrog box becomes a microcosm: You can see how Jews created objects to beautify the holiday and ritual," Mintz said. "In every place where an etrog box is created, it will reflect a time and place of the art and the aesthetics of the Jews at that moment."
Some of the etrog containers were household items that were repurposed, like an 18th-19th century sugar box from Germany or a mustard pot owned by a Sephardic merchant living in Colonial New York. "When you come to the modern era, all of a sudden artists are using the latest art nouveau aesthetic," Mintz said. "It is a wonderful way to look at Jewish art."
Also on display are modern iterations of the etrog box. British silversmith Mila Tanya Griebel created a silver box with cutouts, allowing people to both see the etrog and smell its sweet aroma. Fiber artist Rachel Kanter created a pouch that a woman might take with her to synagogue; one could wrap the etrog in the fabric, which is helpfully printed with a recipe for etrog preserves. New York-based Judaica artist Toby Kahn created a painted wood box that is, according to Klein,"the perfect shape to take with him to shul. He can place it under his arm and still hold his grandchildren's hands."
Though the scholars are pleased with the exhibition — which is on view until Nov. 20 — if they were to do it all over again, they said they'd probably include a section about the "afterlife" of the etrog.
"We wanted to think about the etrog's use in recipes — jam or baking — once the chag is over, how did people engage with the etrog," Teplitsky said. "One chapter in the book explores the etrog in medical recipes. There is evidence from the Cairo Genizah of the etrog being used for medicinal uses, kidney stones, curing bad breath and easing the pains of childbirth."
—
The post A NYC exhibit explores the etrog's journey around the Jewish world appeared first on Jewish Telegraphic Agency.
As war splits progressives, a Jewish group and a Black group find common ground on voters' rights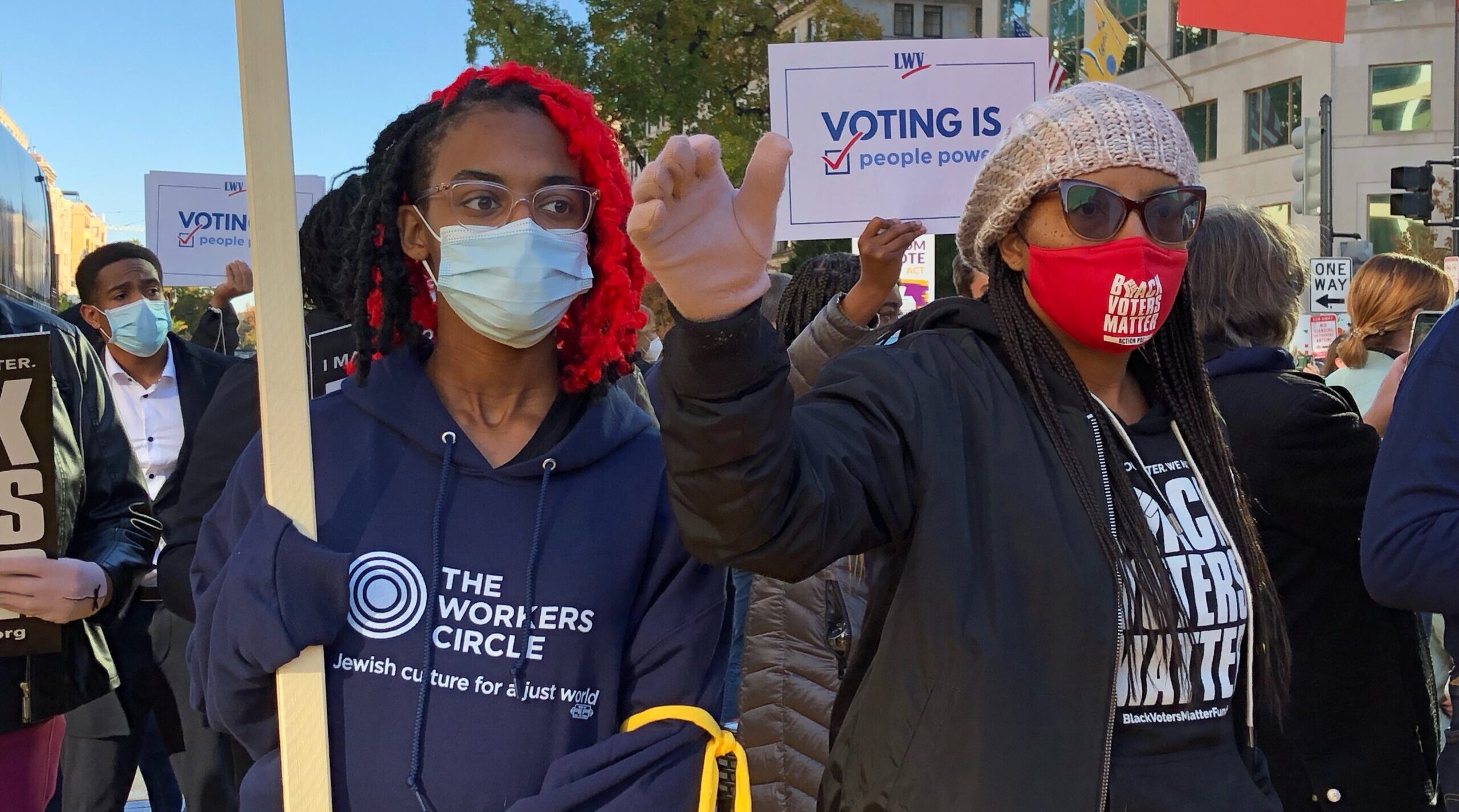 (New York Jewish Week) — In late 2021, activists from the Workers Circle, a progressive Jewish group, and the voting rights organization Black Voters Matter gathered outside the White House for a protest.
The protesters — who demanded that President Joe Biden call for the elimination of the filibuster in order to pass voting rights legislation — blocked the sidewalk, singing and chanting, said Noa Baron, who was then a college student activist with the Workers Circle.
"It was one of those things where you feel like and you know you're doing the right thing," Baron, now a staffer at the Workers Circle, said of the protest and the then-nascent partnership with Black Voters Matter. "They believe in showing up and we believe in showing up, so all of us have that shared understanding that bringing people and being on the ground is an important part of organizing for democracy."
Now, even as war between Israel and Hamas has stoked tensions on the left and frayed relationships between some Jews and progressives, the two groups have forged ahead with their partnership. Both feel that their constituencies are threatened by racism and by the prospect of a Donald Trump victory in the 2024 presidential election.
At an annual dinner on Monday night in downtown Manhattan, the Workers Circle honored Black Voters Matter with its Activism Award and announced that the groups were formalizing their partnership. The move will deepen the relationship between the two groups and details will be released next month.
Ann Toback, the Workers Circle CEO, said the strained relationships between different groups due to the war "makes our partnership more important."
"We need to model to the Jewish community and the Black community that there is so much that still brings us together," Toback told the New York Jewish Week. "I think there's a lot of people out there who want to create divisions even when they may or may not exist, and what we're doing is modeling what it means to be on the ground fighting for something we all believe in."
Yiddish-speaking Jewish immigrants to the U.S. established the Workers Circle, then called the Workmen's Circle, in 1900 in New York as a labor and mutual aid organization. The group now runs a robust Yiddish language and culture program, and advocates for progressive causes. In recent years, the group has focused on strengthening democratic and voting rights, Toback said.
As a policy, the national organization stays out of Middle East politics, which has contributed to some friction with other Jewish groups. In August, the Workers Circle left the Conference of Presidents of Major American Jewish Organizations over disagreements about policies in the U.S., discourse on Israel and how to define antisemitism.
And one local affiliate has allied with the left on Israel. In October, the Boston Workers Circle, which is a separate nonprofit, split with the Jewish Community Relations Council of Boston after joining a rally in support of a Gaza ceasefire.
"We were founded by activists who very much believed that you change the world you live in and we've always followed that," Toback said of the decision to stay away from opining on the conflict. She said her group is focused on the possibility of voting rights being curtailed ahead of Election Day next year.
"Our democracy is under attack right now," she added. "And it's so important that the American Jewish community understand that, as much as our hearts may be distracted, we can't take our eyes off what may happen here in 11 months' time when millions of people may not be able to vote."
In the immediate aftermath of Hamas' Oct. 7 attack on Israel, left-leaning Jews said they felt abandoned by former partners. In the days after Oct. 7, multiple Black Lives Matter chapters appeared to praise or endorse Hamas' attack. Black Voters Matter is a separate group from Black Lives Matter.
More broadly, polls have also shown a divergence between white Americans and people of color in their views on the war, and between Jewish Americans and non-Jews.
The Workers Circle and Black Voters Matter vowed to press ahead with their work despite the war.
"We've had plans on launching this partnership for months and so it's definitely not a response to current events, but we're not going to not do it because of current events. We're going to stay focused on what our mission has been," said Black Voters Matter's co-founder, Cliff Albright. "When we come together, Black communities do better and Jewish communities do better."
The two groups both see themselves as threatened by bigotry and voter suppression, and say they are linked by the history of cooperation between the Black and Jewish communities during the civil rights movement. In an homage to that era, the Workers Circle and Black Voters Matter are planning to march together in November at an annual event in Selma, Alabama, marking the historic march in that city for voting rights in 1965.
The two groups will also organize activists from geographically close Jewish and Black communities, starting in Florida, for discussions on issues including book banning, education and health care, Toback said. The two groups and others are co-sponsoring a virtual discussion on voter suppression on Thursday.
Other initiatives include get-out-the-vote projects, combating voter suppression in North Carolina, a summit to talk about organizing for voting rights and "democracy circles" that bring together small groups of activists around the country to examine topics such as gerrymandering.
Noelle Damico, the Workers Circle's social justice director, said the group had worked together with Black organizations and leaders, including the civil rights activist A. Philip Randolph, since the early 20th century. The Workers Circle supported Randolph's newspaper, The Messenger, and conducted outreach to Black needleworkers. Randolph helped the group see its labor organizing as a way to advance civil rights, Damico said.
In the civil rights era, Workers Circle members and leaders were deeply active in the movement, she said.
"Some of them were desegregating parks and other public facilities, some of them were involved in the major marches," including the Selma March and the March on Washington in 1963, Damico said. "It's been a big part of our history and at this moment it seems really important for us to reclaim that. Not that we forgot it but just to pay special attention at this moment."
Danielle Brown, the deputy national field director for Black Voters Matter, said the fraught moment was "an opportunity to form bridges."
"There are so many different things that we could come together around, just in understanding who each other is, understanding each other's culture, but voting rights is something that's common," Brown said. "That's not a Jewish thing, that's not a Black thing, that's something that we need across the board."
—
The post As war splits progressives, a Jewish group and a Black group find common ground on voters' rights appeared first on Jewish Telegraphic Agency.
Rustin, Sowell and Renewing Black-Jewish Relations
JNS.org – In the aftermath of Hamas's barbaric Oct. 7 terrorist attack on Israel and the Jewish people, Jewish Americans were dismayed by the response from those they considered allies. Years spent suppressing any mention of Israel turned to despair as progressive organizations, including the Black Lives Matter movement, justified and even celebrated the Hamas massacre.
Thankfully, media exposure has recently been given to two black Americans whose work provides an opportunity for reviving relations between the Jewish and black communities.
Last month, Netflix began streaming the movie "Rustin," which depicts the life of pivotal civil rights activist Bayard Rustin. Rustin, who died in 1987 and was openly gay, felt deeply connected to Jewish Americans and never shied away from supporting Israel, even when threatened by the rising popularity of Black separatists.
Earlier this year, famed economist and intellectual Thomas Sowell, who has spent decades rejecting the toxicity of progressive policies, released his new book Social Justice Fallacies. Born into poverty in 1930s North Carolina, Sowell revealed the deceptions embedded in the social justice crusade, a phenomenon that has captured the attention and directed the politics of America's "enlightened" elite class.
"Rustin," produced by Barack and Michelle Obama's production company, does not mention Rustin's advocacy on behalf of Israel in any detail, even though he and A. Phillip Randolph founded the Black Americans to Support Israel Committee (BASIC) in 1975. The establishment of BASIC was a response to black nationalists' alignment with Yasser Arafat and his terrorist PLO, which was gaining legitimacy in international circles.
In 1975, Rustin spearheaded the placement of a full-page ad in The New York Times, signed by some 200 black supporters, that defended Israel against its growing chorus of detractors. That 45 years later, over 600 Jewish groups would sign on to a Times ad endorsing the Black Lives Matter movement, whose original platform openly maligned Israel, highlights how much things have changed.
Rustin's defense of Israel, which he visited in 1969 and 1982, gained renewed urgency in 1979 after the black U.S. Ambassador to the U.N. Andrew Young resigned from his post following his meeting with a PLO representative. Rustin, responding to claims that American Jews had accelerated Young's departure, publicly denounced black leaders in a powerful Times article for "striking back against Israel and the American Jewish community for their supposed involvement in engineering Mr. Young's ouster."
Years before BLM's Chicago chapter publicized an image of a paraglider to express its support for terrorism, Rustin's efforts portended the struggle that would emerge in full decades later.
Sowell's solidarity with Israel builds on Rustin's legacy. In Social Justice Fallacies, Sowell notes that danger lies not with citizens possessing different beliefs. Instead, he argues, what is dangerous "is the extent to which such beliefs prevail without being subjected to tests of either facts or logic."
The fervency with which many progressives have embraced an antisemitic ideology steeped in genocidal delusions proves Sowell's thesis. The timing of Social Justice Fallacies, released weeks before thousands of terrorist sympathizers took to the streets in Western capitals, makes his claim even more compelling.
Throughout history, people in critical positions have taken courageous stands that shaped the trajectory of American society. Famed conservative intellectual William F. Buckley Jr. used his perch as the founder of National Review to divorce conservatives from the antisemitism fostered by right-wingers like Buckley's colleague Joseph Sobran and Republican politician Pat Buchanan. Buckley's groundbreaking book In Search of Antisemitism denounced and marginalized the Jew-haters in the Republican camp.
The late Democratic Senator and Ambassador to the U.N. Daniel Patrick Moynihan's powerful 1975 address to the General Assembly condemning the body's "Zionism is Racism" resolution was a high point in America's longstanding policy of safeguarding Israel at the U.N. This policy held until former President Barack Obama broke with Moynihan's legacy in 2016. In a parting shot at Israel, the outgoing president helped pass anti-Israel Security Council Resolution 2334. That Moynihan's death in 2003 arrived as Democrats increasingly distanced themselves from Israel suggests that his moral clarity has been abandoned by today's progressive activists.
America's children should be encouraged to read Sowell and learn from Rustin's life. For their part, Jewish liberals must stop supporting groups hostile to them and Israel. Instead, they should empower leaders like Dumisani Washington, founder and CEO of the Institute for Black Solidarity with Israel, who has been aptly described as the Martin Luther King, Jr. of our time.
We should celebrate those whose contributions elevate, rather than destroy, America's social fabric. Leaders like Rustin and thinkers like Sowell can inspire a renewed and robust relationship between Jewish and black Americans.
The post Rustin, Sowell and Renewing Black-Jewish Relations first appeared on Algemeiner.com.
Silence the Diplomatic Clock
JNS.org – Former Prime Minister Golda Meir once said, "I must govern the clock, not be governed by it."
Never has this been truer than in Israel's current war to destroy Hamas.
For many years, a figurative diplomatic clock was set for Israel every time it launched a defensive military operation.
This clock is not brought out for any other conflict in the world. It simply does not exist except in the imagination of Israel's foreign interlocutors, who try to burn it into the psyches of the Jewish state's decision-makers.
As a result, the clock has become an ever-present part of Israel's wars, almost as much as the ingenious deconstruction of the concept of "proportionately," which is used as a weapon against Israel to ensure that it fights with one-and-a-half hands tied behind its back.
But the diplomatic clock is a fraud, and Israel's leaders must see through it.
There can be no specific time limitations on responding to the murder, rape and butchery of 1,200 people, the wounding of thousands of others and the vicious kidnapping and humiliation of 240 Israelis and foreigners.
There is no precedent for such crimes. Thus, there can be no time limit set on how long it takes for Israel to ensure that it never happens again.
Israel's wars are not fought halfway around the world. They are fought on our borders, mere meters from our homes, towns and cities.
The war on the Jewish state launched on Oct. 7 broke something that needs fixing, regardless of how long it takes.
Unfortunately, as we know, the diplomatic clock is very much brought to meetings with foreign leaders, who are eager to end the war before Israel's goals have been achieved.
According to a leaked readout from a recent Israeli war cabinet meeting attended by U.S. Secretary of State Antony Blinken, Blinken placed a very firm proverbial stopwatch on the table in front of his Israeli counterparts.
During the meeting, Defense Minister Yoav Gallant said, "The entire Israeli society is united behind the goal of dismantling Hamas, even if it takes months."
Blinken reportedly replied, "I don't think you have the credit for that."
One would think that Israel's closest ally, which knows how Israel has suffered, watched the horror movie chronicling the massacre and heard Hamas say that Oct. 7 was just a "dress rehearsal," would be more attuned and sensitive to the Jewish state's needs.
My expectation is that Israel will ignore Blinken and many others who demand that Israel speed up the war, because speeding up means many more Israeli soldiers will be killed.
The IDF has been very successful thus far in taking its time in conquering territory and flushing out Hamas terrorists. It sends in the air force first and deploys ground forces only when absolutely necessary. Speeding up this process will mean making mistakes and forcing Israel to send in its soldiers without the advantage.
No Israeli leader can or should be doing anything but putting our war aims and the safety of our soldiers first. These go hand in hand, and while the process might be trying for some foreign leaders, Israel has experienced enough bloodshed and loss already.
Israeli leaders must say firmly and confidently that the only clock that matters is the one that stops when Israel achieves victory. Not a minute before. Israel must say very clearly to the world that it governs the clock; it is not governed by the clock. This must be said now, not when the pressure mounts.
Those who claim to be Israel's allies must help, not hinder Israel's effort to win this war. They must dispense with their obsession with time; but if they do not, it is the responsibility of Israel's leaders to silence the clock themselves.
The post Silence the Diplomatic Clock first appeared on Algemeiner.com.