Members of Congress evacuated as police crack down on Jewish anti-Israel protesters outside Democratic HQ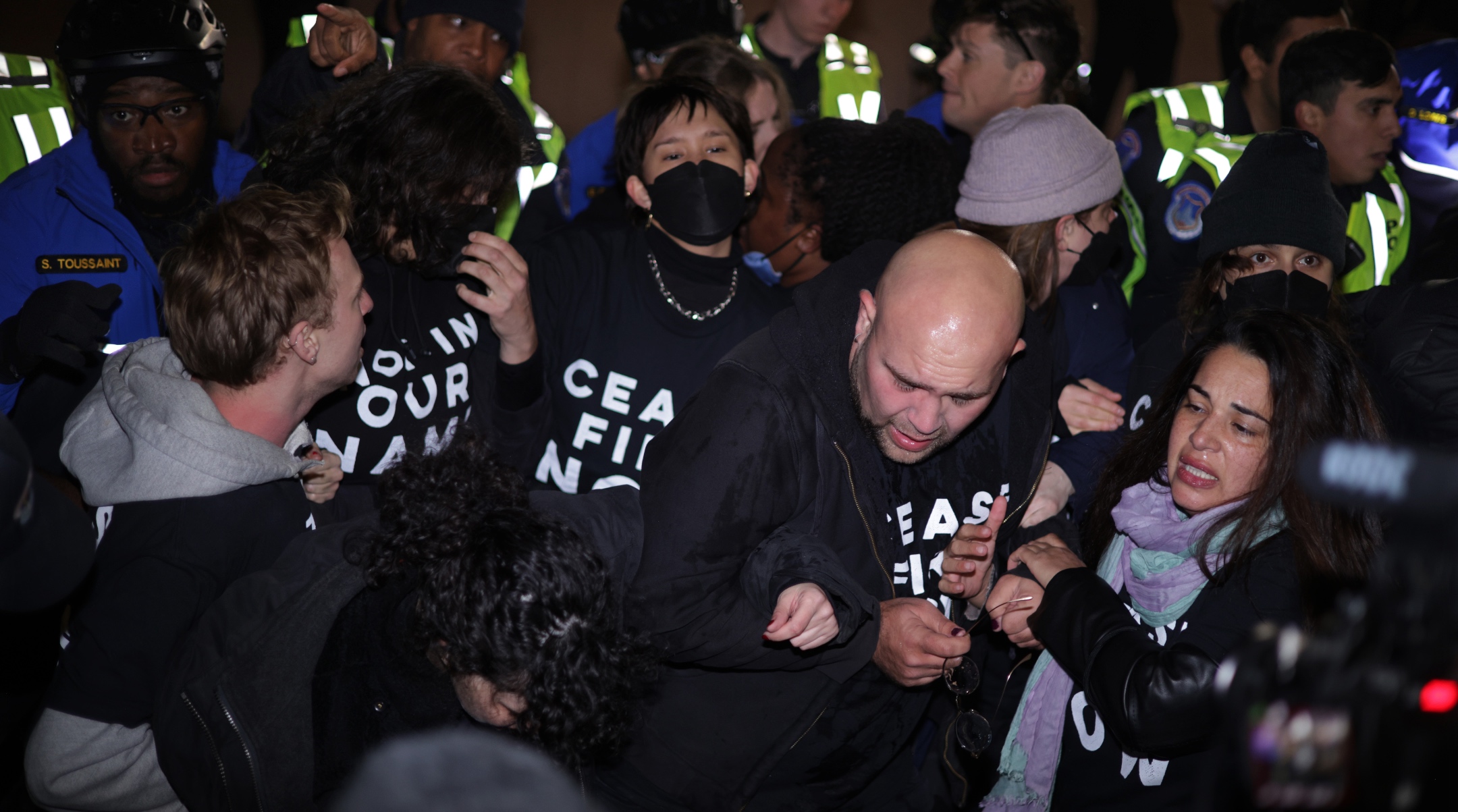 WASHINGTON (JTA) — Capitol Police arrested activists from two left-wing Jewish groups protesting outside the Democratic Party headquarters and calling for a ceasefire in the Israel-Hamas war.
At least two Democrats in Congress said police evacuated them from the building during the protest, the latest in a string of high-profile actions by the groups, IfNotNow and Jewish Voice for Peace.
The police said Wednesday night that the protesters with the two Jewish groups and a third organization, Democratic Socialists of America, were violent. The protest groups said their activists were peaceful and that it was the police who were violent.
The groups, who work together as the Ceasefire Now Coalition, said on Thursday morning that they counted 90 injuries among their members.
"Protesters were choked and violently handled by multiple offices at once, thrown against a wall, then grabbed and picked up and thrown down the front stairs," the groups said in a statement. "At least two protesters' glasses were smashed by the police. Dozens of people were kicked, kneed and punched in the face by police officers. People were shoved down the stairs and tackled to the pavement by cops running at full speed."
The incident took place Wednesday night as about 150 protesters gathered outside the Democratic Party headquarters.
"Right now our officers are working to keep back approximately 150 people who are illegally and violently protesting in the area of Canal Street and Ivy Street, SE," the Capitol Police tweeted at the time. "Officers are making arrests. All [Congress] Members have been evacuated from the area. Please stay away from the area."
The protests come a day after tens of thousands of Jews from around the country rallied on the National Mall in support of Israel in its war against Hamas and the return of the hostages taken by Hamas, as well to counter rising antisemitism in the country. Hamas launched the war on Oct. 7 with deadly raids of Israel that killed at least 1,200 people, most of them civilians.
Israel launched counterstrikes and since then, more than 11,000 Palestinians have been killed, including thousands of children, according to the Hamas-controlled Gaza health ministry. It is not known what portion of that number are combatants, and how many have been killed by rockets misfired by terrorist groups.
The Associated Press reported that congressional staffers were told not to enter or exit the nearby congressional office buildings during the scuffle. Police for a time closed off streets near the buildings. "The large group of illegal protesters near Canal Street and Ivy Street, SE, have cleared out, but USCP officers will stay on scene out of an abundance of caution," a tweet said at 10:15 p.m.
The groups said their actions were peaceful. "Police are being extremely violent outside @TheDemocrats headquarters," IfNotNow said on X. "We are linking arms, threatening no one, and begging our politicians to support an end to the killing and the suffering in Gaza. Begging, peacefully, for a ceasefire."
In a statement later, IfNotNow said police injured over 90 protesters, "including being pepper sprayed, minor cuts, and dragged by the hair."
Jewish Voice for Peace said reports that the protesters were violent were "misinformation." "We showed up with @IfNotNowOrg & @DemSocialists to lay out 11,000 candles representing Palestinians killed by Israeli airstrikes & siege and to call for a #CeasefireNOW," it said on X. "The police assaulted peaceful anti-war protestors."
Video posted by the two groups showed police shoving and arresting protesters. Protesters wore black sweatshirts emblazoned with "Ceasefire Now" in large white letters and chanted "Ceasefire now!" and "Let Gaza live!".
A reporter on the scene, Semafor's Dave Weigel, said the protesters were not trying to enter the building but were blocking its entrances. Weigel posted video that showed police pulling the protesters, who were linking arms, away from an entrance.
Rep. Sean Casten, a Massachusetts Democrat, said he was evacuated and described the threat posed by the protesters as of blocking safe passage in and out of the building.
"I was just evacuated from the @dccc office after the building was surrounded by protestors who had blocked all modes of ingress and egress," Casten said on X. "Grateful to Capitol Police for getting all members and staff out safely. To the protestors: PLEASE don't do something irresponsible."
He added in a second tweet, continuing to address the protesters, "You have the Constitutional right to peaceably assemble and protest. But blocking all entries to a building with multiple members of Congress in it, protected by Capitol Police officers who have lived through January 6 is putting you and other innocent people at risk."
Thousands of insurrectionists, heeding then-President Donald Trump's false claims that he had won the 2020 election, stormed the Capitol on Jan. 6, 2021. Five people died as a result and hundreds of people were subsequently arrested.
Rep. Brad Sherman, a Jewish Democrat from California, who also was evacuated, said the protesters were violent and used pepper spray and accused them of trying to breach the entrances.
"Was just evacuated from the #DNC after pro-terrorist, anti-#Israel protestors grew violent, pepper spraying police officers and attempting to break into the building," he said on X.
IfNotNow said it was police who deployed pepper spray. "They met us with pepper spray, with full riot gear, with tear gas, with violence," it said in a tweet.
A growing minority among Democrats favors a ceasefire in the war. Biden and the leadership in Congress of both parties oppose a ceasefire, backing Israel's goal of continuing to fight until 240 hostages the terrorist group Hamas abducted during its Oct. 7 massacres are returned, and the group itself is dismantled.
IfNotNow and JVP protesters have held demonstrations at the White House and in the Capitol, as well as in statehouses and public spaces across the country. Those protests led to arrests in many cases but did not result in violence.
—
The post Members of Congress evacuated as police crack down on Jewish anti-Israel protesters outside Democratic HQ appeared first on Jewish Telegraphic Agency.
Protester Sets Self on Fire Outside Israeli Consulate in Atlanta
i24 News – A protester was in critical condition on Friday after setting themself on fire outside the Israeli consulate in Atlanta, Georgia, U.S. authorities said. A security guard who tried to intervene was also wounded.
A Palestinian flag found at the scene was part of the protest, Atlanta Police Chief Darin Schierbaum said at a news conference. He added that investigators did not believe there was any connection to terrorism and none of the consular staff was ever in danger.
JUST IN: A pro-Palestine protester is in critical condition after they set themselves on fire in "political protest" outside of the Israeli Consulate office in Atlanta.
The protester was reportedly draped in a Palestine flag.
The protester has severe burns and unfortunately, a… pic.twitter.com/B8nUQAj2nU
— Collin Rugg (@CollinRugg) December 1, 2023
"We do not see any threat here," he said. "We believe it was an act of extreme political protest that occurred." Everyone inside the consulate building was said to be safe.
Anat Sultan-Dadon, Consul General of Israel to the southeastern U.S., said: "We are saddened to learn of the self-immolation at the entrance to the office building. It is tragic to see the hate and incitement toward Israel expressed in such a horrific way."
"The sanctity of life is our highest value. Our prayers are with the security officer who was injured while trying to prevent this tragic act. We are grateful to the city of Atlanta's law enforcement and first responders for all they do to ensure safety."
The post Protester Sets Self on Fire Outside Israeli Consulate in Atlanta first appeared on Algemeiner.com.
Released Israeli Hostages Call for Captives to Be Freed
Israeli hostages released in the past week by Hamas in Gaza called on Saturday for the immediate release of fellow captives left behind, a day after a temporary truce that had allowed scores to come home broke down.
Tens of thousands gathered at a rally in Tel Aviv outside Israel's defense headquarters, where they cheered Yelena Trupanov, 50, standing on a stage just two days after being freed.
"I came to thank you because without you I wouldn't be here. Now we must bring back my (son) Sasha, and everyone. Now."
Similar pleas from other released hostages were shown on video.
A seven-day truce, during which Hamas had released more than 100 hostages, collapsed on Friday after Hamas breached the ceasefire.
Israel said on Saturday it had recalled a Mossad intelligence agency team from Qatar, host of indirect negotiations with Hamas, accusing the Palestinian faction of reneging on a deal that would have freed all children and women held hostage.
More than 240 people – Israelis and foreign nationals – were abducted to Gaza on Oct 7. by Hamas terrorists who burst through the border with Israel and killed 1,200 people.
The post Released Israeli Hostages Call for Captives to Be Freed first appeared on Algemeiner.com.
IDF Foils Stabbing Attack Near Nablus in West Bank, Eliminates Terrorist
i24 News – The Israel Defense Forces (IDF) reported thwarting a stabbing attack on Saturday afternoon against reserve Battalion 7037 at the X junction near Nablus in the West Bank.
According to the IDF spokesperson, the event unfolded when the forces at the roadblock became suspicious of an individual approaching the barricade.
During the questioning process, the suspect suddenly drew a knife and advanced towards the IDF personnel.
ניסיון פיגוע דקירה אירע לפני זמן קצר לעבר כוח צה"ל במילואים מגדוד 7037 שפעל בחסם בצומת האיקס סמוך לעיר שכם שבמרחב חטיבת שומרון.
הכוח חשד במחבל שהגיע לחסם והחל לתחקר אותו, המחבל שלף סכין והחל להתקדם לעבר הכוח.
הלוחמים חתרו למגע והגיבו בירי לעבר המחבל שחוסל. אין נפגעים לכוחותינו. pic.twitter.com/mEaJs58hpE
— דובר צה״ל דניאל הגרי – Daniel Hagari (@IDFSpokesperson) December 2, 2023
The soldiers, faced with the threat, engaged in contact procedures and ultimately responded by opening fire on the assailant. The spokesperson confirmed that the attacker was neutralized due to the IDF's action.
It was also noted that there were no casualties among the IDF forces involved in the incident. According to the spokesperson, the situation at the X junction has stabilized, and IDF continues to maintain vigilance in the area to prevent further attacks.
The post IDF Foils Stabbing Attack Near Nablus in West Bank, Eliminates Terrorist first appeared on Algemeiner.com.