Ukrainian Jews gathering in historic Polish city champion solidarity with Israel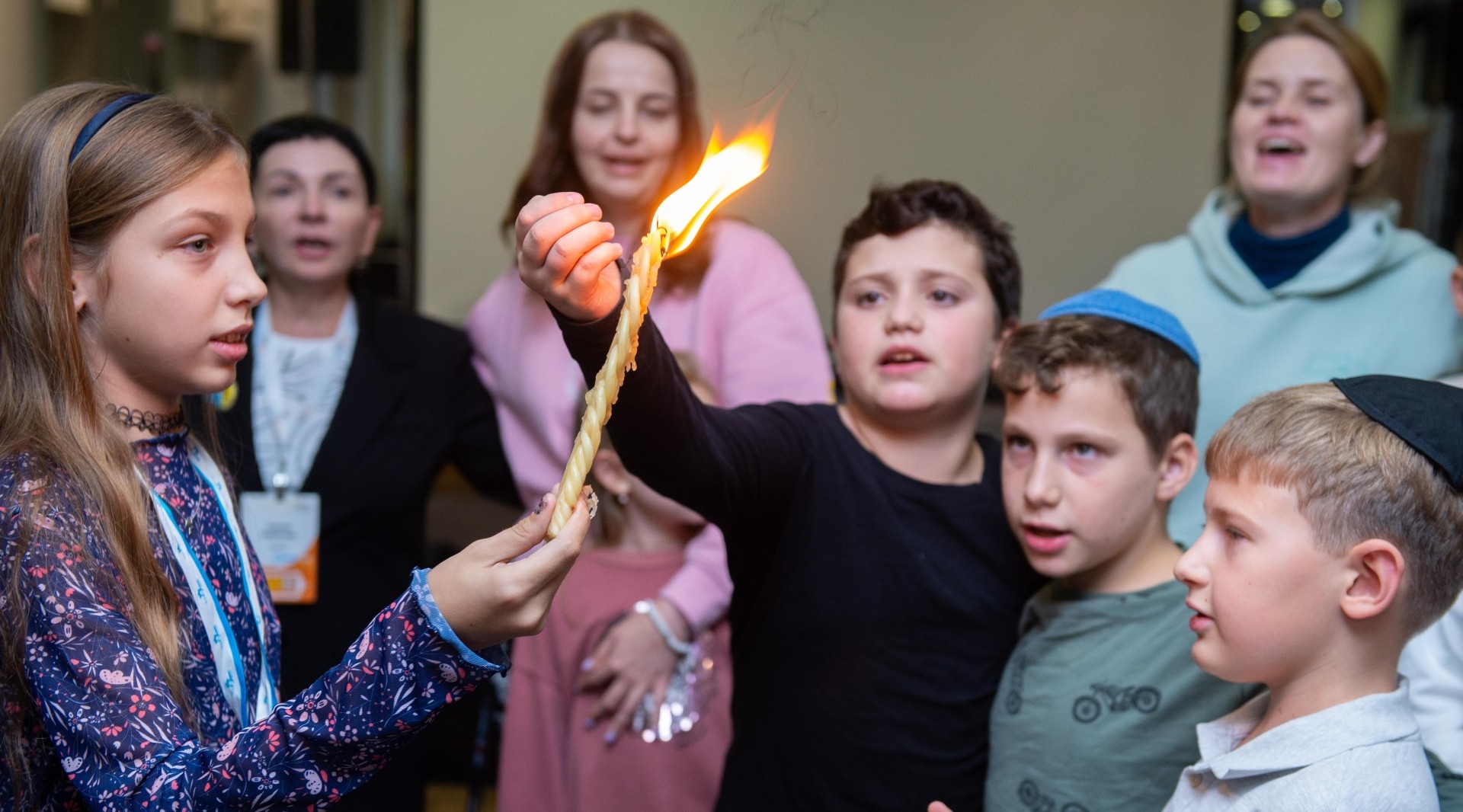 LUBLIN, Poland – With wars raging in Ukraine and Israel, many Ukrainian Jews feel doubly traumatized by the troubles roiling their native country and the Jewish homeland.
So when over 150 Ukrainian Jews gathered over a recent weekend in Poland for a three-day event hosted by Limmud FSU, the nonprofit organization founded by Israeli Chaim Chesler and American Sandra Cahn that seeks to foster Jewish identity and community among Jews from the former Soviet Union, the event served as an occasion for a welcome respite during difficult times.
Most of those who attended the Nov. 3-5 event traveled overland from Ukraine. The rest came from elsewhere in Poland as well as from the Netherlands, Germany and Israel.
The symbolism of hosting the Jewish event for Ukrainian Jews in Lublin, which for centuries before the Holocaust had been a thriving center of Jewish life and is located only 60 miles from the Ukraine border, was unmistakable.
"Since we couldn't hold the conference in Ukraine we decided to do it in the very unique Jewish city of Lublin, with its huge yeshiva that was destroyed by the Nazis in 1939 and rebuilt only 10 years ago," said Chesler. "We are here with our brothers and sisters from Ukraine, who are experiencing the same hardship that we now endure in Israel." 
For three days, the festival turned Lublin's Hotel Victoria into a hub of Jewish learning, music, dance, games, food and joy.
"Two of the things I love most are history and Jewish culture," said software developer Artem Linnyk, 30, a Ukrainian native who has lived in Poland for the last eight years. "Limmud is a great place to find both."
Natalia Tolok, a tour guide and Hillel director in the Ukrainian city of Lviv, came to present a session on her favorite hobby: traditional Jewish dance. 
"Limmud is not just a conference. This is a big family, a kind of separate Jewish world that embraces anyone related to Jewishness," Tolok said. "We used to have huge Limmuds in Lviv and Odessa with hundreds of people. But right now not all who love Limmud can come, for various reasons. They are spread around the world, or in some cases they cannot leave Ukraine."
Welcomed by Poland's King Casimir in 1336, Jews comprised nearly half of Lublin's population before World War II. Most were murdered during the Holocaust, and although only a few dozen Jews remain here today, reminders of the city's glorious and painful Jewish past are everywhere. 
A bronze plaque at the city's main shopping center, Lublin Mall, commemorates the site of Lipowa 7, a forced labor camp where Nazi officers executed about 700 Jewish prisoners on Nov. 3, 1943. Limmud participants visited a restored yeshiva and synagogue, the Old Jewish Cemetery dating back to 1541, and the Nazi concentration camp site of Majdanek where over 80,000 Jews were killed.
"In these trying times for both the State of Israel and Ukrainian Jews, our event in Lublin stands as a testament to the resilience and unity we share," said Matthew Bronfman, chairman of Limmud FSU. "As we convene in this historic city, we renew our steadfast support for one another, transcending the distances that separate us with a shared bond of solidarity."
War has become a part of life for many of Ukraine's Jews today. Photographer Boris Bukhman, a 62-year-old from Odessa, displayed 15 photos from an exhibit of his about the Russia-Ukraine war. 
"We understand what's going on in Israel just as Israelis understand pretty well what's going on in Ukraine," said Bukhman, who has documented battlefield amputations of soldiers. "I was asked not to bring my harshest photos of the war here, so people wouldn't be traumatized all over again."
Alexei Podorozhnyy, a Ukrainian currently living in Germany, has fled war twice: first eight years ago to Kyiv, and then to Frankfurt, where he has resided since the Russian invasion.
"I was so glad to see my friends from Ukraine at this event," Podorozhnyy said in Lublin.
Since its creation in 2005 to strengthen Jewish connections and identity among Jews with roots in the former Soviet Union, Limmud FSU has held 85 festivals around the globe that have drawn more than 80,000 participants overall. Its work is supported by individuals and organizations around the world, including the Conference on Jewish Material Claims against Germany, Nativ-Israeli Prime Minister's Office, World Zionist Organization, Jewish National Fund – KKL, American Jewish Joint Distribution Committee, Wilf Family Foundation, Dutch Jewish Humanitarian Fund, Diane Wohl, Bill Hess and others.
In her welcome message, Raheli Baratz-Rix, head of the World Zionist Organization's Department for Combating Antisemitism and Enhancing Resilience, urged participants not to remain silent in the face of surging global antisemitism.
"Israel is under attack. It's not just a phrase; it's our reality right now," Baratz-Rix said. "All around the world, we've seen a 500% increase in antisemitism since the war began — in Great Britain, Germany, France, the United States and Canada, as well as in the former Soviet Union. We need you by our side, more than ever, to fight together for the narrative. Israel is a strong country and will win, but no one can stay silent right now."
Alex Mershon, director of Nativ's Department of Culture and Education, said, "It is important to emphasize that the Limmud in Lublin is not just a prominent educational event but also a tangible demonstration of solidarity by Jewish communities in former Soviet Union countries with the State of Israel. At Nativ, we actively participate in this important project, particularly during these challenging times for the Jewish people in Israel and the Diaspora."
Shlomo Voskoboynik, 56, is originally from Malin, a small town near Kyiv. He immigrated to Israel in 1994 and now works as an emissary in Estonia for Israel's Education Ministry. At the Limmud in Lublin he led Kabbalat Shabbat prayers, explained the week's Torah portion and led sessions on Jewish culture.
"This Limmud was less cerebral and more emotional," Voskoboynik said. "We know that many presenters couldn't come, but the feeling was very strong. There's a war in Ukraine, there's also a war in Israel now, and people want to feel united."
This sentiment was especially evident at the closing ceremony, when the national anthems of Ukraine and Israel were played one after the other. Despite the challenges, participants said they were hopeful that the security situation in Ukraine is improving — especially in Kyiv, where life seems to be gradually returning to normal.
"Hopefully next year we can do this conference in Ukraine," said Natasha Chechik, Limmud FSU's Israeli executive director. "This is one of our main goals for 2024: bringing Limmud back to Ukraine."
—
The post Ukrainian Jews gathering in historic Polish city champion solidarity with Israel appeared first on Jewish Telegraphic Agency.
Protester Sets Self on Fire Outside Israeli Consulate in Atlanta
i24 News – A protester was in critical condition on Friday after setting themself on fire outside the Israeli consulate in Atlanta, Georgia, U.S. authorities said. A security guard who tried to intervene was also wounded.
A Palestinian flag found at the scene was part of the protest, Atlanta Police Chief Darin Schierbaum said at a news conference. He added that investigators did not believe there was any connection to terrorism and none of the consular staff was ever in danger.
JUST IN: A pro-Palestine protester is in critical condition after they set themselves on fire in "political protest" outside of the Israeli Consulate office in Atlanta.
The protester was reportedly draped in a Palestine flag.
The protester has severe burns and unfortunately, a… pic.twitter.com/B8nUQAj2nU
— Collin Rugg (@CollinRugg) December 1, 2023
"We do not see any threat here," he said. "We believe it was an act of extreme political protest that occurred." Everyone inside the consulate building was said to be safe.
Anat Sultan-Dadon, Consul General of Israel to the southeastern U.S., said: "We are saddened to learn of the self-immolation at the entrance to the office building. It is tragic to see the hate and incitement toward Israel expressed in such a horrific way."
"The sanctity of life is our highest value. Our prayers are with the security officer who was injured while trying to prevent this tragic act. We are grateful to the city of Atlanta's law enforcement and first responders for all they do to ensure safety."
The post Protester Sets Self on Fire Outside Israeli Consulate in Atlanta first appeared on Algemeiner.com.
Released Israeli Hostages Call for Captives to Be Freed
Israeli hostages released in the past week by Hamas in Gaza called on Saturday for the immediate release of fellow captives left behind, a day after a temporary truce that had allowed scores to come home broke down.
Tens of thousands gathered at a rally in Tel Aviv outside Israel's defense headquarters, where they cheered Yelena Trupanov, 50, standing on a stage just two days after being freed.
"I came to thank you because without you I wouldn't be here. Now we must bring back my (son) Sasha, and everyone. Now."
Similar pleas from other released hostages were shown on video.
A seven-day truce, during which Hamas had released more than 100 hostages, collapsed on Friday after Hamas breached the ceasefire.
Israel said on Saturday it had recalled a Mossad intelligence agency team from Qatar, host of indirect negotiations with Hamas, accusing the Palestinian faction of reneging on a deal that would have freed all children and women held hostage.
More than 240 people – Israelis and foreign nationals – were abducted to Gaza on Oct 7. by Hamas terrorists who burst through the border with Israel and killed 1,200 people.
The post Released Israeli Hostages Call for Captives to Be Freed first appeared on Algemeiner.com.
IDF Foils Stabbing Attack Near Nablus in West Bank, Eliminates Terrorist
i24 News – The Israel Defense Forces (IDF) reported thwarting a stabbing attack on Saturday afternoon against reserve Battalion 7037 at the X junction near Nablus in the West Bank.
According to the IDF spokesperson, the event unfolded when the forces at the roadblock became suspicious of an individual approaching the barricade.
During the questioning process, the suspect suddenly drew a knife and advanced towards the IDF personnel.
ניסיון פיגוע דקירה אירע לפני זמן קצר לעבר כוח צה"ל במילואים מגדוד 7037 שפעל בחסם בצומת האיקס סמוך לעיר שכם שבמרחב חטיבת שומרון.
הכוח חשד במחבל שהגיע לחסם והחל לתחקר אותו, המחבל שלף סכין והחל להתקדם לעבר הכוח.
הלוחמים חתרו למגע והגיבו בירי לעבר המחבל שחוסל. אין נפגעים לכוחותינו. pic.twitter.com/mEaJs58hpE
— דובר צה״ל דניאל הגרי – Daniel Hagari (@IDFSpokesperson) December 2, 2023
The soldiers, faced with the threat, engaged in contact procedures and ultimately responded by opening fire on the assailant. The spokesperson confirmed that the attacker was neutralized due to the IDF's action.
It was also noted that there were no casualties among the IDF forces involved in the incident. According to the spokesperson, the situation at the X junction has stabilized, and IDF continues to maintain vigilance in the area to prevent further attacks.
The post IDF Foils Stabbing Attack Near Nablus in West Bank, Eliminates Terrorist first appeared on Algemeiner.com.