PM: We're reaching deeper than Hamas ever imagined, no truce before hostages freed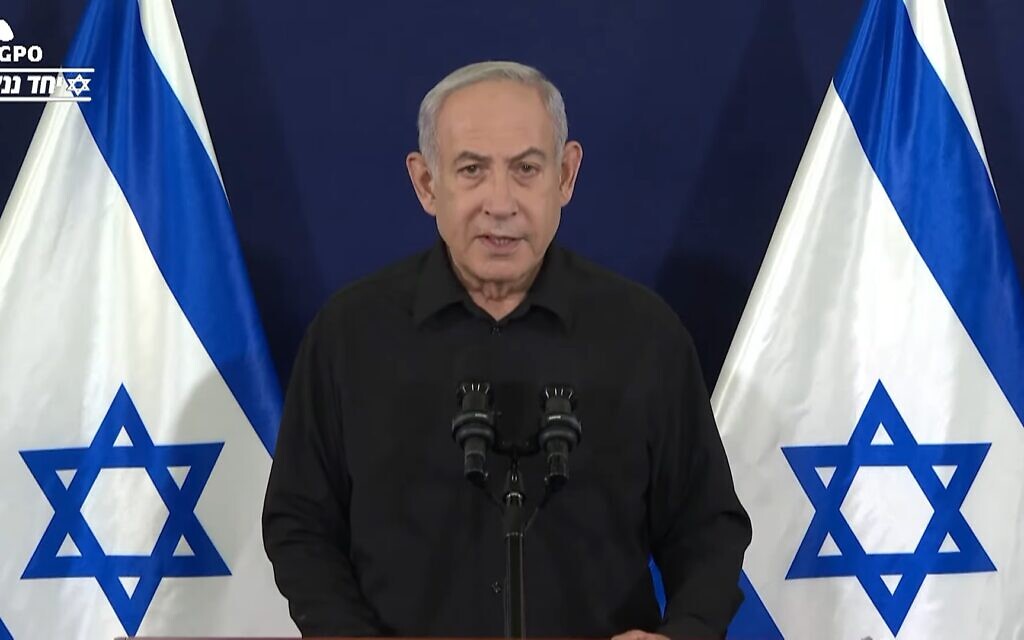 'Show Me One Palestinian Who Tried to Save a Jew on Oct. 7': Hostage Families Highlight Culpability of Gazan Population
Families of hostages seized by the Hamas terror group on Oct. 7 experienced a mix of relief and anxiety at a rally marking "50 days of hell" on Saturday night as they grappled with the bittersweet reality of the release of some hostages while many others remained in captivity, amid multiple delays on the part of Hamas.
Speakers at the rally, which drew some 100,000 people to the renamed Hostage Square outside the Tel Aviv Museum of Art, called to "bring home all of them now."
As of Sunday night, a total of 40 Israeli hostages were released with Hamas indicating that it was interested in extending the ceasefire. Terrorists led by Hamas abducted over 240 people during their Oct. 7 massacre across southern Israel.
Thirteen hostages, mostly from Kibbutz Be'eri, were released on Saturday some six hours after the 4 pm deadline after Hamas accused Israel of short-changing on the promised delivery of fuel and humanitarian aid — a claim that was denied by the International Committee of the Red Cross — and releasing the wrong Palestinian security prisoners in exchange.
Be'eri resident Nir Shani, whose son, Amit, turned 16 in captivity, was not surprised by the delay.
"It's not unexpected, sadly. It would've been weird if it would have gone smoothly as planned. It was obviously going to happen," Shani told The Algemeiner.
Shani further said he wasn't surprised by the Oct. 7 massacre perpetrated by Hamas.
"They did exactly what they said they would do if they got the chance. We've seen it before," he said, pointing to terror attacks against Jews even before the founding of the state.
Shani's views stand in sharp contrast with those of other members of his kibbutz, who maintain that a peaceful resolution to the conflict — likely in the form of two states — is still possible.
He also refused to extend clemency to the Palestinian population in Gaza as being innocent.
"I don't make a distinction between them and Hamas. We've all heard about the righteous among the nations in the Holocaust. Tell me of one Palestinian who tried to save one Jew after Oct. 7," he said.
Shani cited Daniel Lifshitz, the grandson of 85-year-old released hostage Yocheved Lifshitz, as saying that his grandmother was "spat on by hundreds of Gazans on the back of a motorbike."
Adi Shachar — aunt to 12-year-old Noam Avigdori, who was released on Saturday night along with her mother, Sharon — said that the wait was "nail-biting."
"It was very difficult," she said. "But when we saw them on the [Red Cross] ambulance, we screamed and jumped for joy."
The family is still waiting for the return of another family member, Tal Shoham.
"We've finished the first chapter and now we start the second," Shachar said on Sunday morning, referring both to the long road to recovery for her family members as well as the ongoing efforts to free the remainder of the hostages in captivity in Hamas-ruled Gaza.
Images of Ohad Munder, who turned 9 in captivity, blowing bubbles and playing with a Rubik's cube shortly after his release on Friday, flooded Israeli media. He was released along with his mother, Keren, 54, and grandmother Ruth, 78. His grandfather, 78-year-old Avraham Munder, is still in Gaza. Avraham's niece, Merav Mor Raviv, cited Keren as saying that the food supply in captivity was up and down and on some days there was nothing more than a bit of rice.
She told Israel's Channel 12 that there "were also many Hebrew speakers [in Gaza], who spoke to them."
The people who were guarding the hostages were always changing, she said, as was their location.
They were "both underground and not underground," she said.
Despite Israel's claim that the ceasefire agreement included the release of mothers whose children were set free, Hila Rotem, a 13-year-old, was captured by Hamas terrorists along with her mother Raya Rotem, aged 54, but only Hila was released on Saturday, leaving her mother still held hostage in Gaza.
"My mother was by my side throughout the entire period of captivity, but two days before my release, Hamas separated us from each other," Rotem said. "My mother was in good condition, and we were together with [Irish-Israeli] Emily [Hand] when Hamas informed us of a ceasefire and our impending release."
Back in Hostage Square, attendees of Saturday's rally gathered around the stage to hear performers sing heartfelt renditions of their hits, including singer Ehud Banai, who hailed the return of the hostages as "the biggest mitzvah right now."
Anna Kaniel, a dancer who performed with her troupe, AfroCubana, for survivors of the massacre now residing in hotels in the Dead Sea, underscored the "hopelessness" she felt.
"I can't change the politics. I can't do anything, really. The only thing I can do is be here to give support and to give energy to the families. That's why I'm here," she told The Algemeiner.
Kaniel pointed out a poster of Gali Tarschansky, a 13-year-old girl still in captivity, whose brother, Lior, with whom Tarschansky was said to be inseparable, was murdered as the two tried to make their escape from their safe room window in Kibbutz Be'eri.
"Just think of their father who was with them that day. One child dead and the other still in captivity. It's just too much," Kaniel said.
The post 'Show Me One Palestinian Who Tried to Save a Jew on Oct. 7': Hostage Families Highlight Culpability of Gazan Population first appeared on Algemeiner.com.
Israel, Hamas Raise Concerns Over Lists of People Due to Be Freed, Says Official
Israel and the Palestinian terrorist group Hamas have raised concerns over the lists of Israeli hostages and Palestinian prisoners due to be released on Monday, the final day of an agreed four-day pause in the fighting, an official briefed on the matter said.
The official, speaking on condition of anonymity, told Reuters that Qatari mediators were working with Israel and Hamas to resolve the issues and avoid delays.
Hamas said it wanted to extend the truce. An Israeli official reiterated on Monday Israel's position that it would agree to an additional day of truce for each additional 10 hostages freed and to release three times the number of Palestinians each time.
"There is a slight issue with today's lists. The Qataris are working with both sides to resolve it and avoid delays," the official briefed on the matter said.
Israel said earlier it had received overnight what could be the final list of hostages due for release. The list was being reviewed, Prime Minister Benjamin Netanyahu's office said, adding it would provide further information when possible.
On Sunday, Hamas freed 17 people, including a four-year-old Israeli-American girl, bringing the total number the terrorist group has released since Friday to 58. Israel released 39 teenage Palestinian prisoners on Sunday, taking the total number of Palestinians freed since the truce began to 117.
An Israeli government spokesperson said on Monday that the total number of hostages still held in Gaza was now 184, including 14 foreigners and 80 Israelis with dual nationality.
A Palestinian official, familiar with the truce talks, said both Hamas and Israel had shown a positive attitude to requests to extend the four-day pause in fighting, but added that "a final decision hasn't yet been reached."
Qatar, Egypt, the United States, the European Union, and Spain were all working to extend the ceasefire, the Palestinian Authority's foreign minister, Riyad al-Maliki, said during a conference in Barcelona devoted to the crisis.
An Israeli official told Reuters the onus was on Hamas to produce a new list of 10 hostages it could free on Tuesday in exchange for that becoming an additional truce day. That process would continue for a maximum of five additional days to the current truce, the official added.
Hamas spokesperson Osama Hamdan, speaking to Lebanon's LBC broadcaster, said the group would try to find more hostages to release and thus prolong the truce. Hamas has previously said it is not holding all the hostages who were brought to Gaza.
The people handed over by Hamas on Sunday included 13 Israelis, three Thais, and one with Russian citizenship, and the International Committee of the Red Cross confirmed it had successfully transferred them from Gaza.
'CAN'T BELIEVE I'M FREE'
The truce agreed last week is the first halt in fighting in the seven weeks since Hamas attacked Israel, killing 1,200 people and taking about 240 hostages back into Gaza.
In response to that attack, Israel has launched a military campaign of air strikes and ground operations against Hamas in Gaza. Hamas-controlled health authorities in the coastal enclave say thousands of Palestinians have been killed during the Israeli campaign.
Palestinians gave the freed prisoners a jubilant reception in Ramallah, according to Palestinian news agency WAFA.
Palestinians in Gaza said on Monday they were praying for an extension of the truce
As it pummeled Hamas targets in the northern Gaza Strip in recent weeks, Israel had urged residents to head south, but some have stayed put, including a few doctors and nurses at Gaza City's Kamal Edwan medical complex tending to patients including children who they said cannot be moved.
"The situation here is very bad, we don't have food, drink, or any other needs for life or even medical supplies," said nurse Hashem Abu Warda.
EU APPEAL
The European Union's top diplomat, Josep Borrell, said on Monday the truce was an important first step but that far more would be needed to alleviate the situation.
Speaking at the Forum for the Union of the Mediterranean in Barcelona, Borrell also urged Israel not to "recolonize Gaza," saying that the creation of a Palestinian state in the West Bank, East Jerusalem, and Gaza was the best guarantee of Israel's peace and security.
Al-Maliki of the Palestinian Authority, which runs the West Bank, told the Forum that the international community must pressure Israel to extend the truce indefinitely. The death toll would double if war resumes on Tuesday, he added.
Netanyahu said over the weekend that once the truce ends "we will return with full force to achieve our goals: The elimination of Hamas, ensuring that Gaza does not return to what it was; and of course the release of all our hostages."
The post Israel, Hamas Raise Concerns Over Lists of People Due to Be Freed, Says Official first appeared on Algemeiner.com.
Israel's Mossad Hosts Qatari Counterparts on Gaza Talks
Israel's Mossad intelligence service is hosting its Qatari counterparts to confer on the recovery of hostages held by Hamas and other elements of a Gaza truce that was mediated by Doha, an Israeli security official said on Sunday.
Qatari intelligence officers arrived on Saturday for an indefinite stay in Israel, the official said, adding that cooperation between the agencies is "traditionally close", despite the lack of formal relations between the countries.
Qatar's international media office did not immediately respond to a request for comment.
A Qatari delegation traveled to Israel on Saturday to discuss a possible extension to the truce, another official told Reuters on Saturday, but it was unclear if intelligence officials were involved in the talks.
The second official said on Sunday that a handful of Qataris remained working in Israel "to strengthen coordination during the operations and to ensure the process ran smoothly, while coordinating with the operations room in Doha."
Gas-rich Gulf state Qatar hosts several top Hamas officials and the group's political office. Qatar also has cordial relations with Iran, Israel's arch-foe, which backs Hamas.
The post Israel's Mossad Hosts Qatari Counterparts on Gaza Talks first appeared on Algemeiner.com.