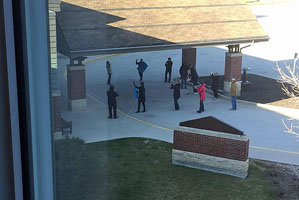 By BERNIE BELLAN
The role that Personal Care Homes have been playing in the COVID-19 pandemic is a crucial one.
We've all heard about the horror stories associated with seniors' homes in other jurisdictions – especially Quebec, so it's natural for anyone in Manitoba who has a loved one in a PCH to be especially concerned about the heightened risks associated with those facilities.
Whether it's good luck or good management – or a combination of the two, we seem to have been spared any serious outbreaks in PCH's in Manitoba – and none at all in the Simkin Centre.
In our April 15 issue, I reported on some steps that Laurie Cerqueti, CEO of the Simkin Centre, had said were being taken at the Centre in response to what has already begun to emerge as a pandemic here in Manitoba, along with the rest of the country. That article noted that:
"The front entrance is now the only entryway for staff into the building so that we can ensure full screening of everyone entering the building.
"20 extra bedside tables have been ordered to assist with social distancing during resident meal times.
"All vendor supplies are now dropped off only at the receiving entrance and are not being brought into the building as was normally done prior to this.
"A system has been developed for Resident supplies being brought by family. They are now left on a table in the vestibule and items are being wiped down with an antiviral wipe prior to being distributed to the care areas.
"Dr. Koven, our Medical Director, is now the only MD that will be onsite to assess Residents. He does not attend other sites at this time so is less likely to bring COVID-19 into our building. Other MDs will respond to phone calls from nursing and do virtual visits as able.
"Over 95% of all staff have now been trained in feeding and swallowing so that we can all help to ensure that are Residents are being fed. Currently, about 52% of our Residents require assistance with meals. Helping Residents with meals has brought joy and new purpose to staff that would not have previously been involved in Resident care.
"We have prepared for the eventuality that many staff and managers may be living at the Centre. We have ordered extra mattresses for staff to sleep on, purchased toiletries for staff, and purchased portable cell phone chargers."
On Thursday, May 6, I spoke with Laurie and with Aviva Tabac, Fundraising and Administrative Officer at the Simkin Centre, to find out how things have gone for the 200 residents and 250 staff at the Simkin Centre since that April 15 report.
Laurie Cerqueti began the conversation by saying: "We're actually doing quite well in many ways and staff have gone above and beyond to do things, to make sure the residents are cared for and fed. We've seen a lot of good come out of this."
I said to Laurie that a recent story in the news about how resident Shirley Kleiman receives visits every day from her husband, Sam, who comes to a window to say hi – and tell her how much he loves her, must have resonated with anyone who saw that story. I wondered how many residents are actually able to be brought to windows to see loved ones?
"Not all residents would go and do the window visits with family," Laurie answered, "but all of the rooms have windows and all of the windows open so they can get fresh air, but we do the window visits in the atrium area. There are also families that will go to a particular resident's room and connect there (using cell phones). Anyone on the main floor would have the opportunity to do that."
I wondered whether the issue of putting cameras into residents' rooms had come up (stemming from the shocking lack of supervision in certain Quebec nursing homes).
Laurie said: "You mean the 'nanny cams'? No, we haven't had that requested, and I think families know we're doing the best we can – with the Facetiming, Skype or Zoom. Aviva does a Zoom call with a resident here and there have been up to 12 family members participating in that Zoom session."
Laurie went on to explain that an iPad is brought into residents' rooms – one at a time, for those interactive sessions, which are all prearranged. "We've actually just launched an online booking system for those types of visits," she explained (including window visits) at www.simkincentre.ca.
I referred to our April 15 article, which referred to staff preparing to sleep over at the centre, if necessary. Although that hasn't proved necessary, according to what Laurie told me, I wondered about the state of morale among staff in general, considering the extreme stress under which they must be working.
"Actually, I think we have a very high morale now," Laurie said. "Everybody's working together – probably better than they ever have been, including a lot of us that wouldn't typically help with assisting residents with meals. We're all chipping in to make things work.
"That doesn't mean that staff aren't scared," Laurie added, however. "I think everyone's a little bit scared, including me and you, Bernie".
"Yah," I said, "but I think the level of apprehension must be lower than when the virus first emerged in Manitoba because we seem to have escaped the brunt of it here."
Have there been any Personal Care Homes in Manitoba that have seen the virus show up, I wondered?
"Yes, there have been," Laurie responded, "but all sites went into a lockdown some time ago." She noted that "all staff are required to wear face masks and goggles; staff are screened every time they come to work; we take their temperature; we ask them a series of questions. It would probably be safer here than when you go to the grocery store.
"The other thing we do," Laurie continued, "is every week we try and show our appreciation for staff so some board members and family members have donated funds, treats or products to help make this happen."
I wondered about programming for residents – and to what extent there are still programs available?
"All of the programs in the atrium and the multi-purpose room have been canceled," Laurie answered. "Recreation programming happens on the individual units now or out in the courtyard, where we're able to physically distance residents one from another. And, any new admissions we would have isolate in their room up to 14 days. Otherwise residents are out and about in their individual units. There are a few residents that are able to make it to the atrium on their own, but there aren't large groups of them together."
"What about meals?" I wondered. "Are meals being taken in the residents' rooms or are they still able to go to the common areas in the units?"
"They are able to go to the common area," Laurie explained, "but we spread it out so we have ordered extra bedside tables so it's not as tight as it would normally be where we'd have three to four residents at a table."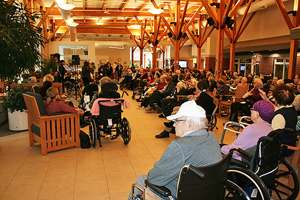 I asked Aviva what else the Simkin Centre has been doing for residents as far as being able to make the time pass under these stressful circumstances?
"The recreation department has stepped up in a huge way," she began. "They're running smaller programs on the units now. They have programs that run in the morning and the afternoon. Now, we also have evening and weekend staff that are doing recreation.
"And, even though Steven Hyman (who regularly conducts Shabbat and holiday services at the centre for residents and families) is not able to be here in person, he has been recording videos of services that we show to residents."
Laurie noted, as well, that "we are having services on the units every Saturday."
Aviva continued: "The residents are pretty busy. They're doing art programs, they're doing bingo, exercise programs…we've had musical entertainment."
"We've actually had musicians come to our courtyard," Laurie noted, "where they play and we open the windows so that the residents can hear the music and see the musicians."
"What about the financial situation for the Simkin Centre?" I wondered. "How different is it as a result of the pandemic?"
"There are a number of large costs for equipment and supplies – right when it started happening," Laurie answered, "and there are ongoing costs."
"And you mean Simkin will have to assume responsibility for those costs – and not the province?" I asked.
"I'm not confident that the province will fund partially or fully any of this," Laurie said.
"Really – wow!" I said. "You mean it's all going to fall on to the Personal Care Homes themselves to fund?"
"It could," Laurie said. "I'm not confident" (that the province will provide the funding).
She added that, in addition to the extra costs imposed on PCH's for equipment and supplies, "there are all these new rules – if you've traveled, you can't come to work for 14 days; if you have any symptoms you have to go get swabbed, and then you have to have the A-OK, you can come back to work; or people that have pre-existing conditions aren't able to work. So there are increased staffing costs that we are incurring."
"Have you had a lot of staff who have been affected by all these new rules?" I asked.
"There would have been, especially in March, which was peak travel season" for a lot of people, "including our staff," Laurie said.
"We are staying close to the community and I think people are appreciative of the work we've been doing here," Laurie said in conclusion.