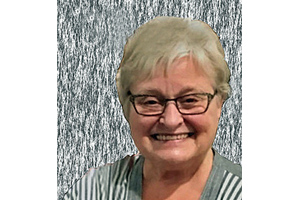 With deep sadness, after a lengthy illness, with her loving husband Harvey by her side, Corinne passed away on January 20, 2021.
Corinne will be sorely missed by her son Corey (Amanda), grandsons, Mitchel, Warren and Ian, brother Ernest (Bernice), sisters-in-law, Roslyn Nairn and Lois Ackerman, cousin Sharon Ostin, nephews and nieces, Ron, Karen, Ruth, Marshall, Jackie, Shannon and Richard, and countless other family and friends.
She was predeceased by her parents, Morris and Frances Nairn, in-laws, Clara and Morris Ackerman, older brother Harvey Nairn, brother-in-law Sid Ackerman, and her beloved daughter Debra Wesa.
Corinne was born in Winnipeg, having lived in Ituna and Buchanan, SK, eventually moving to Waterloo Street in Winnipeg. Corinne attended Brock Corydon School, Balmoral Hall, then United College before heading out into the work force. Corinne had many successful jobs. She was especially proud of her accomplishments running two "DollarStorePlus" franchises successfully with no formal management training. Her business and organizational skills came to her naturally for which she was admired.
Corinne and Harvey always enjoyed special times together at their favourite summer getaways to Detroit Lakes, Minneapolis, then finishing off in Fargo for a shopping spree. A monumentous trip to New Zealand to see Corey and Amanda fulfilled one of their life dreams. Their winter vacations to Hawaii, Mexico, Florida and California to meet up with loved ones garnered countless other memories to cherish.
Corinne's baking and cooking was unsurpassed. Everyone who knew her never hesitated to make special requests for cheesecakes, meringues, cinnamon tortes, yom-tov chicken or egg salad. She would make extras of everything just in case, to avoid possible shortages.
The word "NO" was not in Corinne's vocabulary when it came to anything or anyone. It mattered not if she was well or ill, Corinne somehow made things happen. She was an exceptional woman who had patience and compassion whose beauty was seen both inside and out. She was a strong graceful lady who loved fiercely and unconditionally. She had a lovable sense of humour and a smile that shone so bright that people gravitated to her. Corinne had a heart of gold.
The family would like to acknowledge the many caregivers that supported Corinne's journey over the past few years. Our sincere thanks to Rabbi Matthew Leibl for his most meaningful and descriptive eulogy that he delivered at the graveside funeral that took place at Shaarey Zedek Cemetery. Our heartfelt thanks go out to Corinne's pallbearers, Ron Ackerman, Marshall Naruzny, Jerry and Dustin Roitelman, Ian Wesa.
Family and friends are encouraged to make a donation in memory of Corinne to Jewish Child and Family Services, Diabetes Canada or a charity of their choice.
MAY HER MEMORY BE A BLESSING