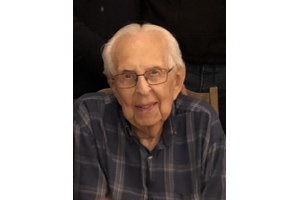 It is with profound sadness that the family of Max Hochman announces his passing on January 28,2021, in Winnipeg. He was three weeks shy of his 99th birthday.
Left to mourn his passing are his children Jeanette (Norm) Addaway, Sid (Andrea) Hochman, and Irv (Sharon) Hochman of Toronto ; his grandchildren Michael and Melissa Addaway, Lana Hochman, Faren (Ari Sniderman) Hochman of Edmonton, Jordan and Evan Hochman of Toronto, his great-grandson Noam Sniderman, his sister Ettie Slotnick of California, and many nephews, nieces, relatives, and friends.
Max was predeceased by his wife Sara, parents, Hymie and Sarah, brother Leon, sister Anne Koster and step-mother Etta.
Max was born in Poland and emigrated to Saskatchewan. He had a difficult childhood as his mother died when he was only 11 years old. His younger brother was ill and passed away 6 years later. At 16, Max moved to Winnipeg to work. During WWII he enlisted in the Air Force, and was stationed, as he would say , "overseas" in Prince Edward Island as a morse code operator. From a young age Max learned the importance of resilience and the value of hardwork. He worked in sales at Allan Lyone for 40 years.
Max married Sara (Raber) and they were married for 56 years before her passing. Jewish values and family were an integral part of his life. He instilled these values in his children and grandchildren. He attended minyan at Etz Chayim (previously Rosh Pina) regularly and often arrived before the doors were opened.
Max was never a rich man, but what he valued most was his time. He gave it generously wherever he could. He was a long-time volunteer for Folklorama, Meals on Wheels, the Sharon Home, and the Health Sciences Centre gift shop. Max was fiercely independent and would rather do for others than have them do something for him. He lived independently until December 2020 and even drove a car until he was 97 years old. Max attended weekly programs at the Gwen Secter and the Stay Young program at the Rady Centre. With his friend Helen May Shrom he enjoyed many wonderful times socializing, particularly with his dear friends Chuck and Lil Frohlich. Max loved participating in and watching sports. He was a member of the YMHA for many years, bowled, curled and played Senior's baseball. He took great pride in his children's and grandchildren's accomplishments. He enjoyed attending activities of his children when they were growing up and that continued with his grandchildren. He was so excited when he became a great grandfather for the first time two years ago.
Max was a gentle, soft spoken, kind man who always greeted people with a smile. He made a positive impression on all who had a chance to meet him, even though he could not remember most of their names. When you look up mensch in the dictionary, you could very well see his picture. Max often seemed like the energizer bunny. You could say he "lived long and died young". He will be greatly missed.
Funeral services were held at Shaarey Zedek Cemetery on January 31, 2021. Special thank you to Rabbi Kliel Rose, Cantor Tracy Kasner, and all those who attended online shiva minyan services to honour Max.
Donations can be made to the Etz Chayim Synagogue, Gwen Secter or charity of your choice.