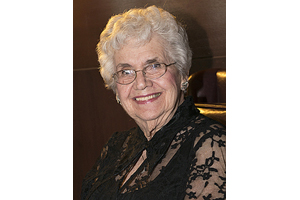 It is with deep sorrow that the family of Rose Appel announces her death, which took place January 14, 2021, at Victoria General Hospital, Winnipeg, Manitoba, at the age of 96.
Rose Appel was born in 1924 in Selkirk, Manitoba, the second child of Harry and Freda Rifkin (née Berg), who themselves emigrated to Canada — from areas now called Belarus and Lithuania, respectively — before the First World War. Her parents worked long, hard hours running a general store on Manitoba Avenue in Selkirk during the Depression years, and Rose began working in the family business as a schoolgirl. Already at the age of 10 she had more formal schooling than either of her parents, and began doing the accounts, making up bank deposits, and serving customers at Rifkin General Store. She also worked long hours in the family's seasonal hotdog and hamburger stand.
Her father Harry, a soft-spoken, modest man and a World War I veteran, involved Rose in the family's side business in fur trading. Rose would accompany her dad on short excursions to Interlake Indigenous communities, to trade for mink and, especially, muskrat pelts. Rose also learned to skin and stretch out muskrat hides and eighty years later could still explain the process in detail.
Rose worked hard for the family business, overcoming childhood health challenges and making friends among the Icelandic and Ukrainian immigrant families in Selkirk, despite the lack of time for socializing.
Her social life blossomed in Winnipeg during the Second World War, where she stayed regularly at an aunt's house and where she met — through a cousin — a young pharmacist from the North End who had taken over a drugstore business in St James with a partner. This was Larry Morris Appel, known to all of his friends as Morris. He became her husband of forty years until his death in 1986. Together they raised three children, first on Waverley Street, and then on Queenston Street in River Heights.
As a senior, Rose remained fiercely independent, living alone in an apartment building across from the Grant Park Shopping Center, cooking meals and shopping for herself into her mid-90s, while taking advantage of Manitoba's wonderful Home Care services. She relied a great deal on the support and loving care of her eldest son Allan and his family, who live in Winnipeg. And she always looked forward to regular visits from her two U.S.-based sons Brian and Fred, and their families. She is survived by them, by five grandchildren and three great-grandchildren, and by her younger brother Saul Rifkin, also of Winnipeg.
Her funeral was livestreamed on the website of Congregation Shaarey Zedek in Winnipeg. It remains archived on the synagogue website for viewing. May her memory always be a blessing.